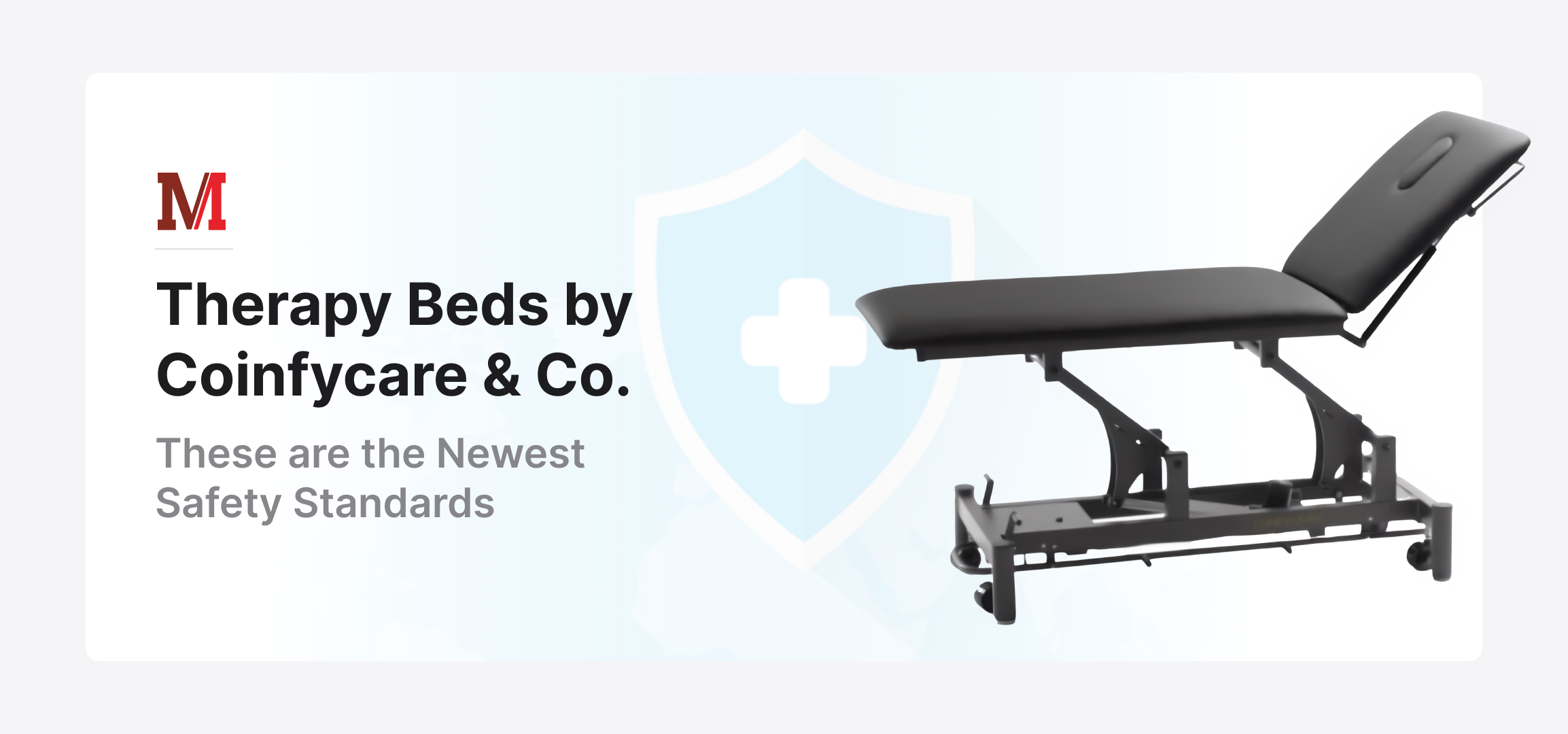 The safety of patients and compliance with strict standards are crucial in the healthcare industry. Ensuring the highest safety standards is particularly essential for therapy beds used in various medical fields.
COINFYCARE, a renowned manufacturer of therapy beds, has recently undergone an extensive update of its products to meet the new safety requirements. This innovation allows professionals and practice owners to rely on high-quality treatment beds that comply with the latest recommendations and certifications.
In this article, we will introduce you to the new safety standards implemented by COINFYCARE and the benefits they offer for professionals and patients.
1. Who is COINFYCARE?
COINFYCARE is an established brand specializing in high-quality therapy beds. With their variety and robustness, these stationary electric therapy beds have gained significance worldwide and are highly popular among healthcare professionals.
As an authorized provider in Germany, we bring the renowned COINFYCARE treatment beds to your practice. Whether it's physiotherapy, chiropractic care, or rehabilitation, COINFYCARE therapy beds and treatment beds provide adaptability for a wide range of treatments in various fields such as physiotherapy, chiropractic, cosmetics, spa, and massage applications.
The brand offers the following advantages:
Certified medical device according to EU Medical Devices Regulation (EU) 2017/745, MDR, Medical Device Regulation.

Comprehensive standard and safety equipment.

Extraordinary quality, BEST Engine 2022, and durability.

Optimized for practitioners and patients.

Free shipping within the EU.
2. These Are The Current Safety Standards
Previously, therapy beds were equipped with locking boxes, but according to the BfArM (Federal Institute for Drugs and Medical Devices), these are no longer sufficient. The exact statement is as follows: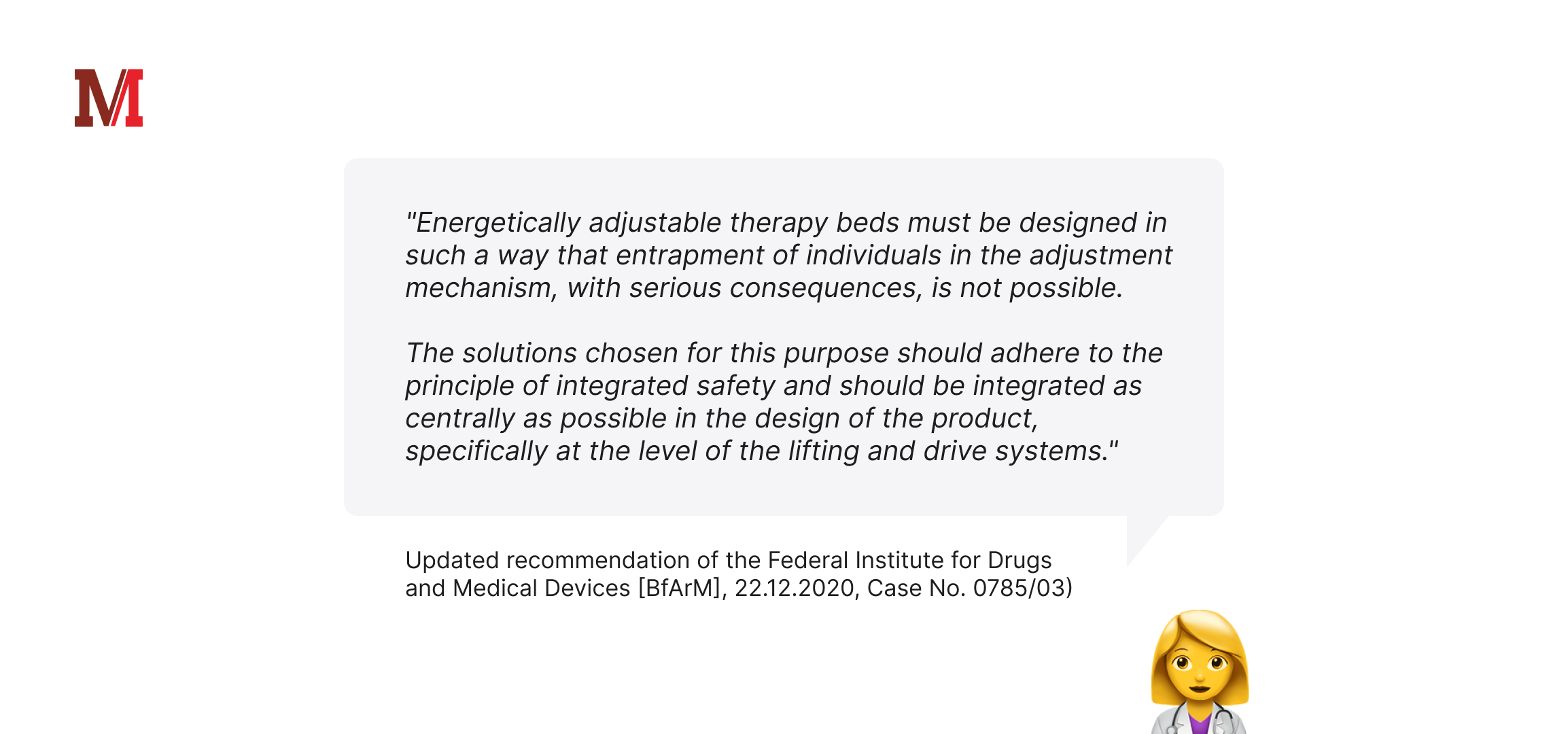 Current Changes and Benefits of the New Technology
In comparison to older models, COINFYCARE has integrated a new technology into their therapy beds. Instead of a locking box, all models now feature a newly programmed control unit for motor management.
The previous locking box was considered outdated as it required manual activation. The integrated control unit ensures improved safety and meets the current standards and requirements of the BfArM.
Importance of Medical Certification and Benefits for the Buyer
The COINFYCARE therapy beds now have a medical certification according to the EU Medical Devices Regulation (EU) 2017/745, MDR (Medical Device Regulation). This certification is a formal proof that the therapy beds comply with the legal requirements and quality standards for medical devices. The certification allows buyers to rely on the safety and effectiveness of COINFYCARE therapy beds.
When opening or operating a practice, the competent authorities such as the Lageso in Berlin often verify whether all devices and products used have the necessary approvals and certifications. With the medical certification of COINFYCARE therapy beds, practice owners can be assured that they meet all regulatory requirements and can operate their practice smoothly.
The benefits of medical certification are diverse.
Firstly, it ensures a high level of safety for patients. The therapy beds have undergone thorough testing for their safety and effectiveness and meet strict standards to minimize potential risks. This creates trust and ensures that patients feel comfortable and well-cared for during treatment.
Secondly, medical certification demonstrates COINFYCARE's commitment to quality assurance and continuous improvement. To obtain certification, the company had to take comprehensive measures, such as implementing an effective quality management system and creating comprehensive technical documentation. This ensures that the therapy beds meet the highest quality standards and meet the requirements of healthcare professionals.
Thirdly, medical certification is evidence of compliance with legal regulations and enables smooth operation of the practice. During regulatory inspections and audits, practice owners can present the certification to demonstrate that their equipment meets the required standards. This minimizes the risk of interruptions in practice operations and supports a smooth flow of treatments.
What Are Class I Medical Devices?
The classification of medical devices into risk classes plays a crucial role in ensuring patient safety. According to applicable regulations, medical devices are classified into different classes, including Class I, IIa, IIb, and III.
Class I includes medical devices with the lowest risk to the patient, including COINFYCARE therapy beds.
To obtain medical certification for their products, medical device manufacturers must meet certain formal requirements. These include effective quality management to ensure that the products comply with strict requirements and quality standards. Thorough technical documentation is also required to document the safety, performance, and reliability of the medical devices.
Medical certification offers numerous benefits for both manufacturers and healthcare professionals, ultimately benefiting patients. It ensures that the therapy beds meet the required quality standards and pose the lowest possible risk to the patient. Compliance with legal provisions ensures the safety and effectiveness of medical devices.
For healthcare professionals who use therapy beds in their practice, medical certification is an important factor in choosing the right therapy beds. They can rely on certified beds to meet the highest quality standards and provide optimal conditions for treating their patients.