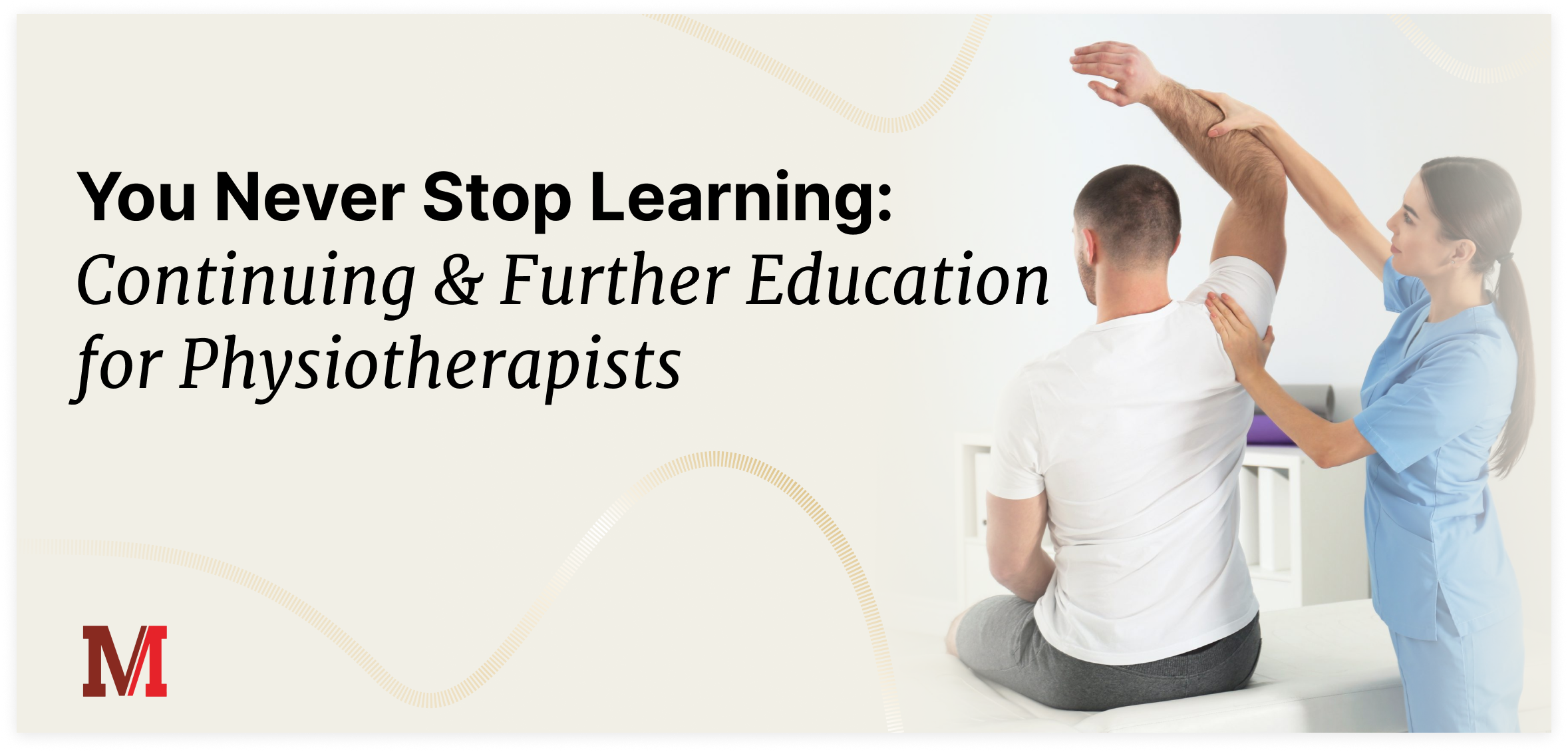 Physiotherapy is a complex and dynamic field that is constantly evolving and changing. New findings from research and innovations in practice regularly produce new approaches and methods. As a result, physical therapists must keep their knowledge and skills current to provide the best possible care to their patients.
One way to do this is through continuing education and training. But what's the difference between the two?
Imagine you're a mountain climber...
...and you are standing in front of a rugged, steep peak. You've reached base camp and now you need to check your equipment before you continue climbing. Advanced training works the same way. It gives you the opportunity to update and improve your existing skills and knowledge to stay current with the latest practices.
Continuing education, on the other hand, is the addition of new tools and equipment. It expands your knowledge and skills to learn new techniques and methods that can help you advance in your career.
In this article, we will highlight various continuing education and training opportunities in physical therapy to give you a better idea of how you can advance your career. Let's reach the top together and enjoy the view that awaits.
Continuing Education for Physical Therapists

Further Education for Physical Therapists

Making the Right Choice

Costs and Funding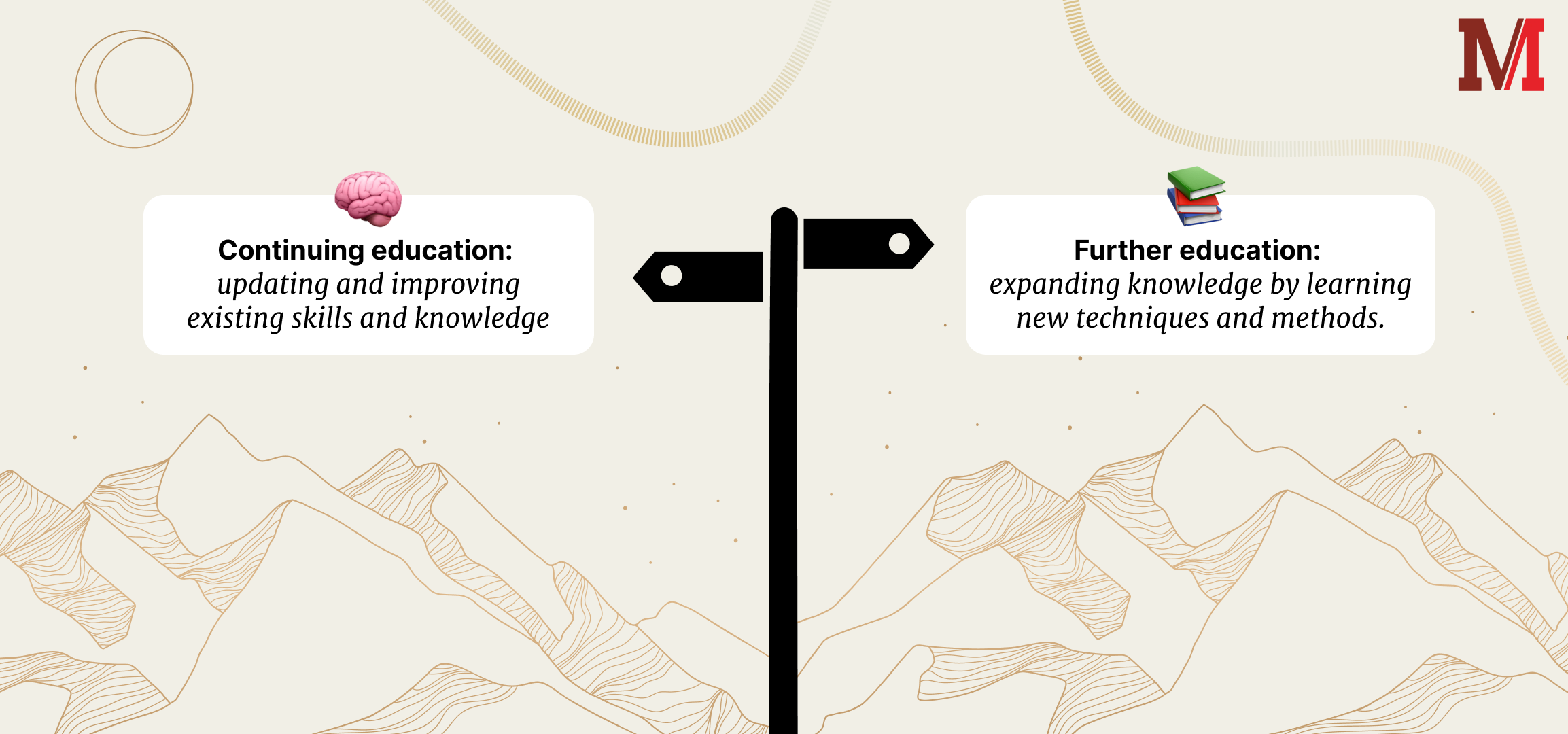 1. Continuing Education for Physical Therapists
As a physical therapist, it is of utmost importance that you stay up-to-date with the latest research and practice. Continuing education is an essential tool for this, as it plays an important role in improving and updating your knowledge and skills. Continuing education through training allows you to improve the quality of your care and grow professionally.
There are several opportunities available to you here.
Workshops
A workshop is not only about theory, but also about practice. Participants have the opportunity to learn and experiment with other physical therapists and experts. The workshop is usually interactive and includes hands-on exercises and simulations that allow participants to try out and perfect what they have learned. Exchanging ideas with other participants and instructors can help develop new perspectives and ideas to improve your own practice.
Workshops can cover a variety of topics, such as manual therapy, sports physical therapy, neurology or pediatrics. Depending on the focus, workshops may also appeal to different groups of participants, such as novice or experienced physical therapists. Workshops take place in one day or over several days and are led by both national and international experts.
However, choosing the right workshop can be a challenge. You should first consider what knowledge and skills you want to improve and what topics are relevant to your practice. Then, you can search specifically for workshops that target these topic areas.
Another way to find suitable workshops is to research professional association websites or through recommendations from colleagues. Some continuing education providers also offer specific workshops for physical therapists working in a particular area.
Seminars
In seminars, the focus is more on theoretical aspects and discussions. As a rule, seminars take place over several days and are aimed at a specific group of participants, such as beginners or advanced users.
One of the main goals of seminars is to provide participants with a deep understanding of a particular topic and enable them to apply what they have learned to their own practice. Seminars provide a platform for the exchange of ideas and experiences between participants and instructors, allowing for new insights and perspectives.
Another benefit of seminars is that they are often organized by reputable training providers that offer high-quality content and instructors. When choosing a seminar, make sure it is certified by independent organizations to ensure it meets national and international standards.
Webinars
Webinars are a flexible and convenient way for physical therapists to expand their knowledge and skills from anywhere. Unlike workshops and seminars, webinars take place online and allow participants to learn from the comfort of their own home or workplace.
Webinars can be live or recorded and often cover specific topics. They allow physical therapists to improve their knowledge and skills from the comfort of their own homes.
Well-Known Providers
To find suitable continuing education opportunities, you can research different providers and programs. Some well-known providers include the German Society for Physical Therapy Science (DGPTW), the German Society for Manual Medicine (DGMM), and the German Physical Therapy Association (ZVK). These organizations offer a variety of continuing education courses that target specific areas of interest or skill.
In addition to these organizations, there are also many independent providers that offer continuing education specifically for physical therapists. You can also check with local hospitals, rehabilitation centers, and clinics for continuing education opportunities.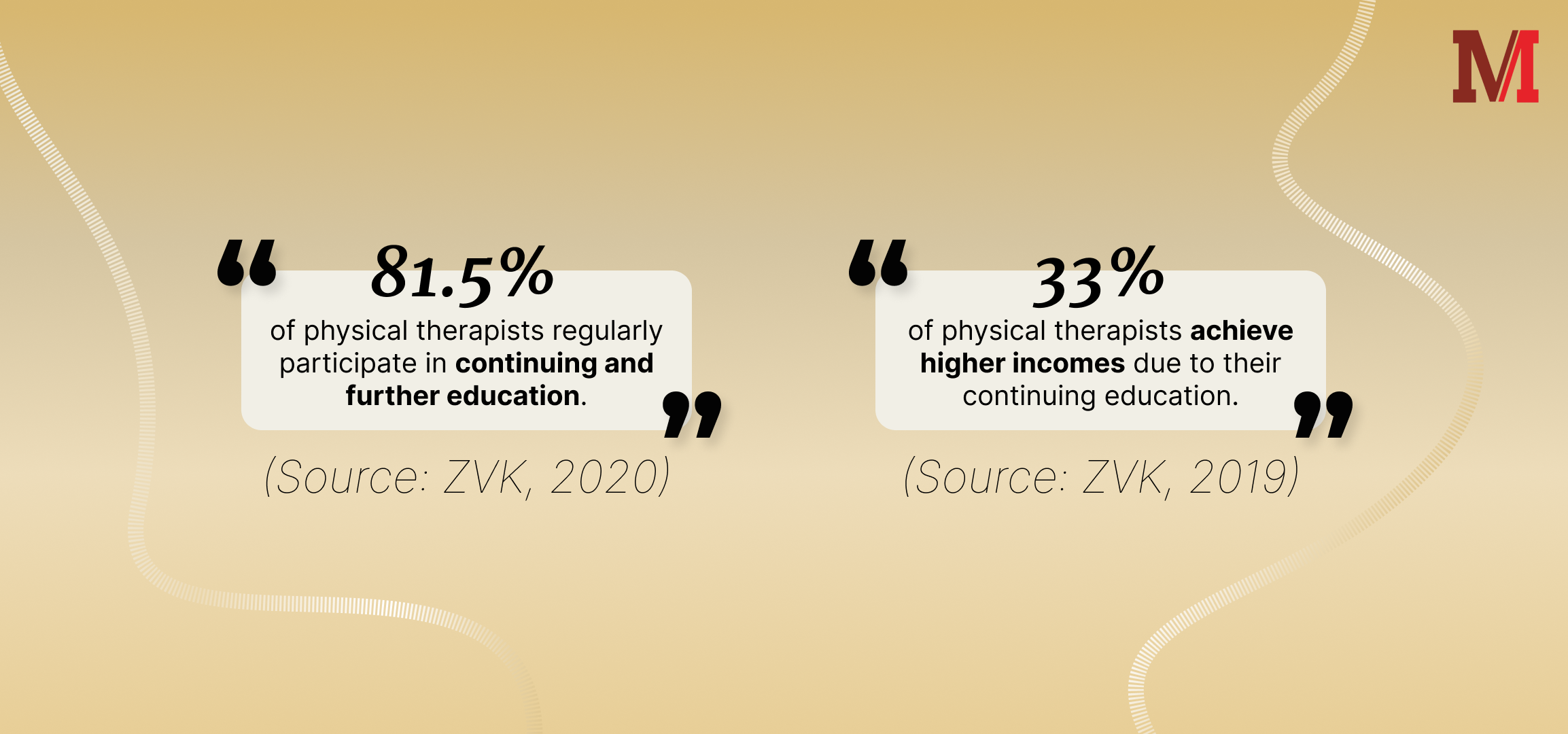 2. Further Education for Physical Therapists
Continuing education is an important part of the professional development of physical therapists. Unlike continuing education, which often focuses on specific skills or techniques, continuing education aims to expand the physical therapist's understanding and competencies in a broader context.
Continuing education can take place in a variety of ways:
Certificate Programs
Certificate programs offer physical therapists a great opportunity to deepen and broaden their knowledge and skills in specialized areas of physical therapy. These programs are designed to provide participants with an in-depth understanding and practical skills in specific areas of expertise.
Certificate programs may be offered in various areas of physical therapy, such as manual therapy, sports physical therapy, or neurorehabilitation. They often include a mix of lectures, hands-on labs, and case studies to provide participants with a comprehensive, hands-on experience.
A major benefit of certificate programs is that they offer recognition of the skills and knowledge gained through official certification. This certification can help build patient and colleague confidence in the physical therapist's abilities and enhance career opportunities.
Certificate programs are often offered by reputable educational institutions or professional associations and can be completed online or face-to-face. They often require a certain number of hours to be completed and usually include an exam to test the knowledge and skills acquired.
Master's Degree Programs
Master's degree programs are one of the best ways for physical therapists to advance their knowledge and skills to a higher level. These degree programs provide in-depth and comprehensive training in specific areas of physical therapy and broaden professional perspectives and career opportunities.
A master's degree program in physical therapy is ideal for physical therapists who wish to pursue an academic career or a leadership position in health care. The program is designed to meet the specific needs of physical therapy and includes a comprehensive and detailed look at theories, research methods, and practical applications in physical therapy.
Master's degree programs are available in a variety of physical therapy fields, including sports physical therapy, manual therapy, and neurorehabilitation. The programs can be completed full-time or part-time and usually take between 1 and 2 years to complete.
A major advantage of master's degree programs is that they offer a high level of recognition and prestige. Graduates can take on leadership roles in the healthcare industry due to their higher level of education and specific knowledge and skills in specialized areas of physical therapy.
In addition, master's degree programs offer the opportunity to conduct research projects to gain new knowledge and advances in physical therapy. This can help improve the quality of patient care and advance the industry as a whole.
Congresses
Conventions are another great way for physical therapists to further their education and keep up to date with the latest research and practice. Congresses are typically large events that often run over several days and cover a variety of topics and presentations.
These events provide an excellent opportunity to discover new research and techniques, network with other professionals, and gain valuable insight into the latest developments and trends in physical therapy.
Congresses offer a variety of lectures, workshops, seminars and presentations tailored specifically to the needs of physical therapists. Attendees can choose from a variety of topics ranging from treatment of injuries and illnesses to new technologies and methods.
A major advantage of congresses is that they are often led by leading experts in their field. This gives attendees the opportunity to learn firsthand from experienced and qualified professionals.
There are many organizations and institutions that offer congresses for physical therapists, such as the German Congress of Physical Therapy or the World Congress of Physical Therapy. These congresses are often held in different locations around the world, which allows physical therapists to make international contacts and learn from different cultural perspectives.
Conferences
Conferences are similar to congresses, but are usually smaller and more specialized in specific topics or areas of physical therapy.
Conferences offer attendees the opportunity to learn from experts in their field and share information about new technologies, methods, and developments. There is often a wide range of topics, from specific medical conditions and treatment methods to professional skills and management issues.
Attendees of conferences can usually benefit from an interactive learning environment that includes lectures, workshops, discussions and networking opportunities. They may also have the opportunity to present their own research or clinical experiences and receive feedback from other professionals.
Similar to conventions, there are many organizations and institutions that organize conferences for physical therapists. These events are often held in various locations around the world, giving participants the opportunity to gain new cultural perspectives and make international contacts.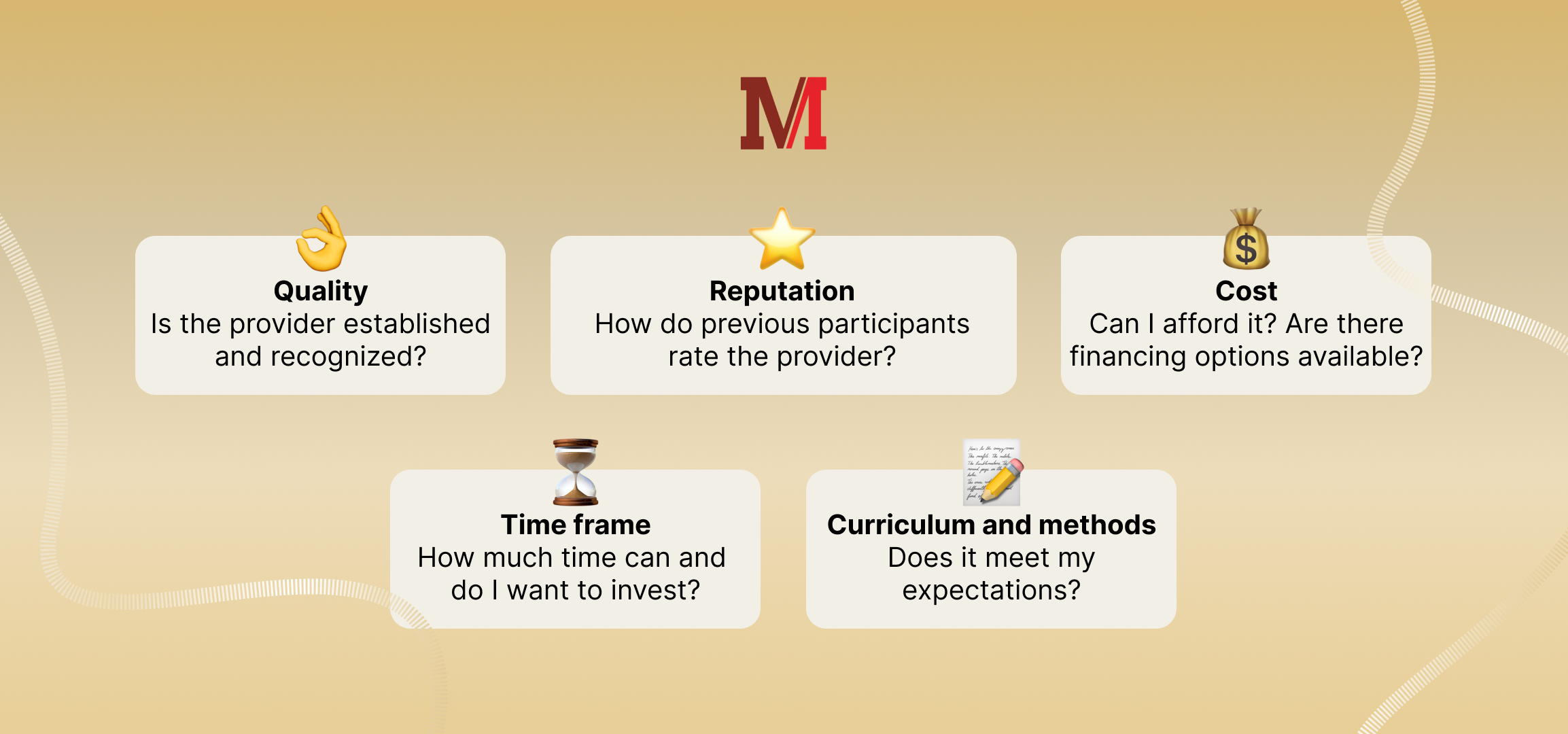 3. Making the Right Choice
Now that we've taken a closer look at the various continuing education and professional development options for physical therapists, let's take a look at what to consider when choosing a provider.
First, you should consider what areas of your specialty you would like to explore in greater depth. Individual interests, as well as professional requirements and demand, can play a role here. For example, courses on specific therapy methods or patient groups such as children or seniors may be particularly relevant.
Furthermore, the following factors are decisive:
Quality: look for reputable and established providers that are recognized by professionals in the industry.

Reputation: check the provider's references and read reviews from previous attendees.

Cost: How expensive is the continuing education or training? Are there financing options available?

Time frame: How much time do you have to invest?

Curriculum and methods: Does the structure meet your expectations?
Here is a selection of renowned providers of continuing education for physical therapists:
American Physical Therapy Association (APTA): A professional organization that provides education, advocacy, and resources for physical therapists in the United States.

Canadian Physiotherapy Association (CPA): The national professional association for physiotherapists in Canada, providing education, research, and advocacy services.

Australian Physiotherapy Association (APA): The peak body representing the interests of Australian physiotherapists and their patients, providing education, advocacy, and resources.

Chartered Society of Physiotherapy (CSP) - UK: The professional, educational, and trade union body for the UK's 59,000 chartered physiotherapists, offering educational resources, networking opportunities, and advocacy.

The McKenzie Institute International: A worldwide organization that provides evidence-based assessment and treatment for musculoskeletal disorders, including the McKenzie Method of Mechanical Diagnosis and Therapy.

Herman & Wallace Pelvic Rehabilitation Institute: An organization focused on the education and promotion of pelvic health physical therapy for both women and men.

Institute of Physical Art: A professional organization that provides education and training in Functional Manual Therapy™, a comprehensive approach to the evaluation and treatment of musculoskeletal dysfunctions.

Maitland Australian Physiotherapy Seminars: An educational organization that provides courses on the Maitland Concept, a manual therapy approach for the assessment and treatment of musculoskeletal conditions.

The Mulligan Concept: An approach to manual therapy developed by Brian Mulligan, which involves mobilization with movement techniques to restore pain-free movement and function.

Neuro Orthopaedic Institute (NOI): An organization that provides education and training in the assessment and treatment of pain and dysfunction related to the nervous system, including the Explain Pain and Graded Motor Imagery programs.
4. Costs and Funding
The costs of continuing education and training can vary greatly depending on the provider, length and scope. In general, however, they are within the following range: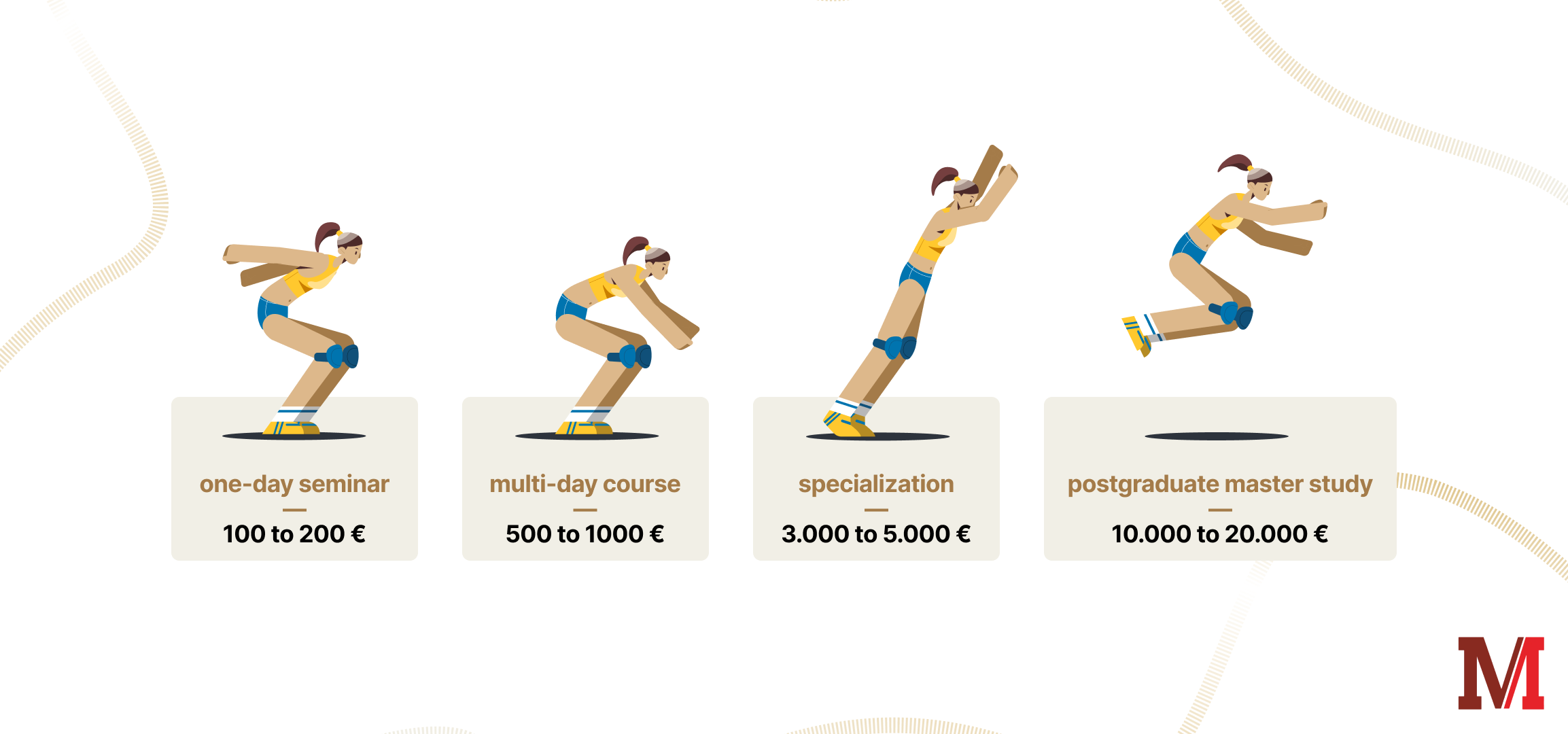 It is important to remember that the cost of continuing education often includes not only course fees, but also travel and accommodation costs. For example, if a physical therapist attends a course in another city, the total cost can increase significantly. Sometimes there is also a need to purchase special equipment or supplies.
Funding
Often, physical therapists must pay for their own expenses, but there are special financing options that can help.
Employer: Are you employed? In some cases, it is possible for an employer to cover the cost of continuing education or training if it is considered professional development and is designed to improve the employee's skills. It's worth talking to your employer to see what funding options are available.
Grant programs: Another option is to participate in grant programs or scholarships. There are a variety of organizations that offer funding for continuing education and training. For example, the German Federal Employment Agency or the European Union offer funding programs.
Scholarships: Scholarships are often offered by professional associations, foundations and other non-profit organizations. It is advisable to find out about these opportunities and apply in good time.
Education loans and funds: it is also possible to take advantage of government education loans or education funds. These offer a financing option at lower interest rates than traditional loans. One example is the federal government's education fund.
Others: Finally, there are providers who offer special financing options for continuing education and training. These often include installment payments or interest-free loans. Some providers also have agreements with financing institutions that offer special terms to participants in continuing education.
How did you like the article?
With your feedback, we can improve our content.
❤️ Very interesting! - ☺️ Okay. - ☹️ Not interesting.