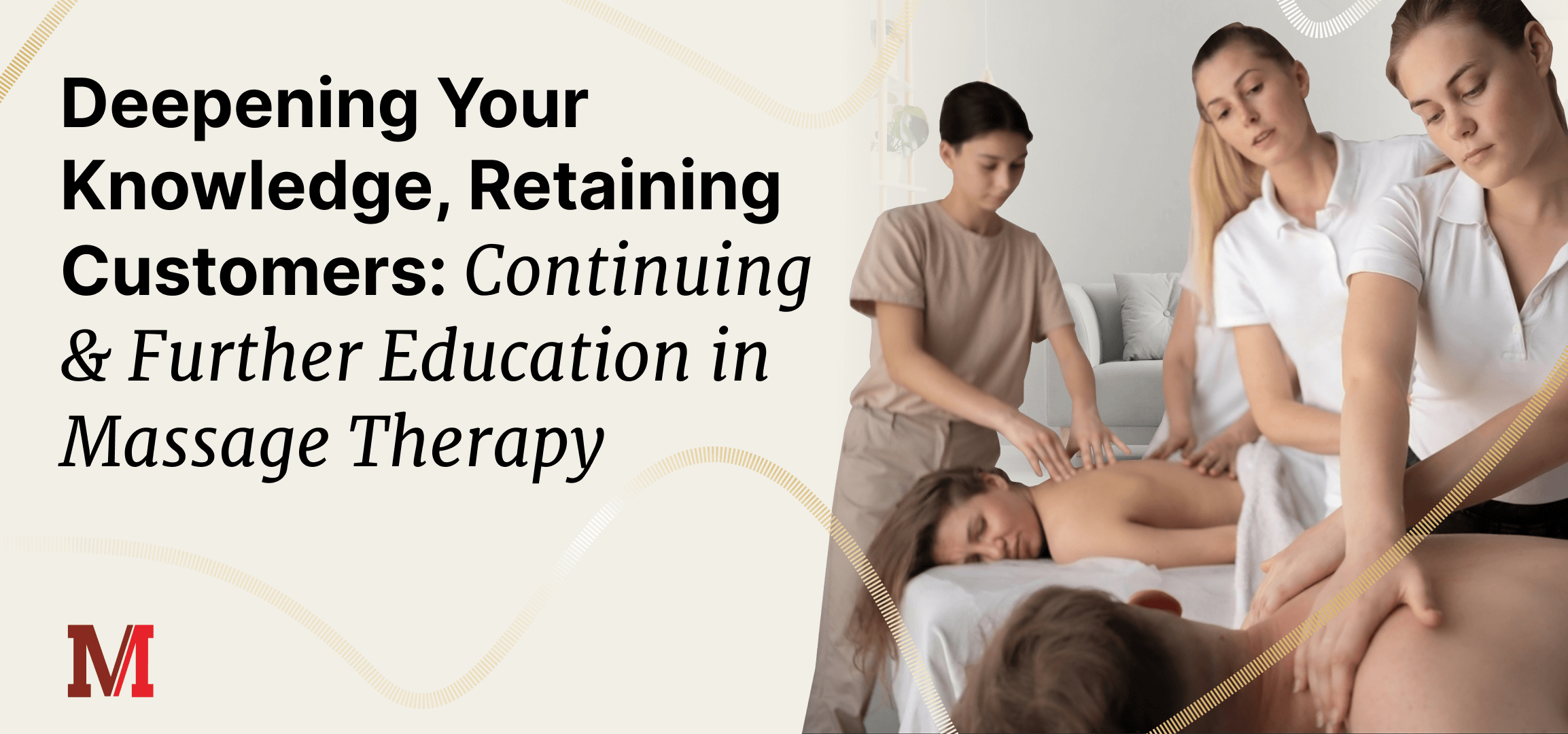 In order to provide their clients with the best possible care, massage therapists must constantly update their knowledge and skills in the field of massage therapy. The field is constantly evolving, as new research findings and innovative practices regularly produce new approaches and methods. In this context, continuing education is of crucial importance. But what exactly distinguishes these two types of training?
Imagine you are a gardener...
... planting apple trees. Through continuing education, you learn which tools and fertilizers help your apples grow faster and bigger. Existing skills are deepened and updated. In contrast, in a continuing education course, you would learn new techniques and methods to advance your career. In this case, you would learn how to grow plum trees in addition to apples.
In this article, we will introduce various continuing education opportunities in massage therapy so that you and your studio can meet the growing demands and expectations of the industry and reap the benefits of your work.
1. Continuing Education Opportunities for Massage Therapists
The range of continuing education opportunities is vast and covers all areas of your studio: from massages themselves to customer retention to business management. Continuing education opportunities are usually offered as workshops, seminars, and weekend courses.
Workshop: Half day to several days, €100 to €500

Weekend course: One to three days, €300 to €800

Seminar: Up to one week, €300 to €1000
Let's take a closer look at some possible continuing education opportunities.
Specific Massage Techniques
There are many different types of massage techniques, and continuing education in specific techniques such as sports massage, trigger point therapy, or aromatherapy can help you deepen your skills and expertise.
Sports Massage: Improve muscle regeneration and flexibility and prevent injuries

Trigger Point Therapy: Elimination of painful knots

Aromatherapy: Integration of essential oils to promote relaxation and regeneration.
If a continuing education is not enough for you, you can also participate in a certificate program as part of a further education. Let's take aromatherapy as an example: A further education program could be a weekend course, which specifically deals with the use of essential oils in massage practice and teaches the masseur new skills. A certificate program, on the other hand, is usually more extensive and consists of several modules that can take several months or even years to complete. In a certificate program, theoretical content is also usually taught, such as the history of aromatherapy or the chemical properties of essential oils.
Psst: Knowledge can also be free! In our fragrance lexicon, you can learn a lot about essential oils, their storage and application, as well as the effects of various oils.
Continuing Education in Business Management
Further education in business management can be of great importance to you, especially if you run your own business or plan to start a company in the near future. Such an education can help you acquire business knowledge necessary to run a successful business. Here, you can learn a lot about financial management, marketing, employee management, and other aspects of daily business operations.
Possible content of a further education could be:
Creating and managing budgets

Utilizing accounting software

Developing an effective marketing strategy

Recruiting and leading employees effectively
Continuing education in business management can be conducted in various ways, such as seminars, workshops, webinars, or online courses. Masseurs can learn from experienced business managers and instructors who have extensive knowledge and experience in the industry.
Continuing Education in Anatomy and Physiology
For masseurs, a thorough understanding of human anatomy and physiology is of great importance to be able to treat their patients effectively and efficiently. Further education in this area can help deepen your understanding of human anatomy and physiology and help you better understand the basics of the human body.
These further education courses can cover various topics, including:
Bones

Muscles

Nerves

Organs

And body systems
They can, for example, include courses on specific techniques such as palpation or identification of muscle groups. Or they can focus on specific physical conditions, such as injuries or disorders of the musculoskeletal system.
Further education in anatomy and physiology is conducted in various ways, such as through workshops, seminars, online courses, or by attending training. Many providers of further education in this area are specialized schools that also offer a variety of courses and certificates specifically tailored to masseurs.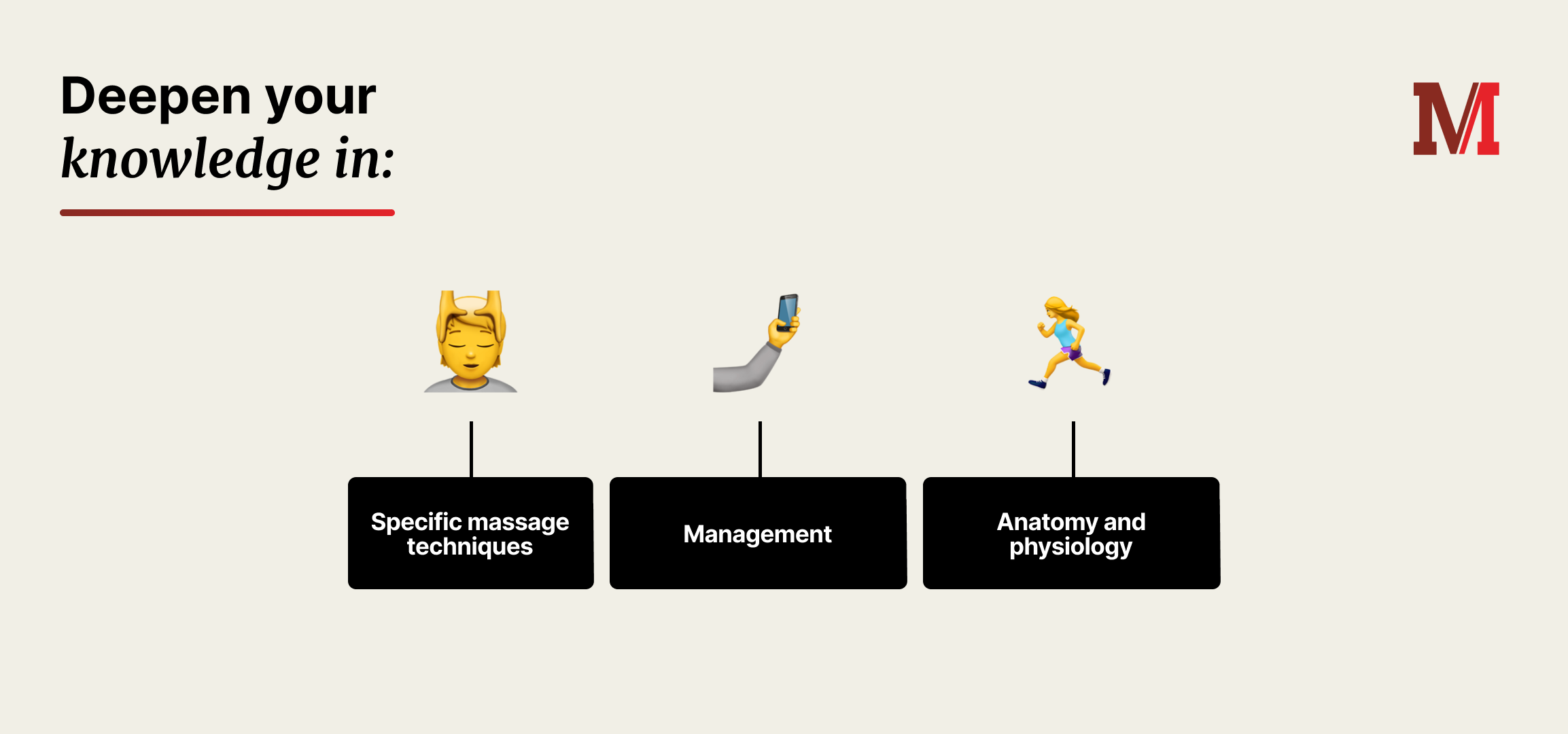 2. Further education opportunities for massage therapists
In contrast to further education, which serves to deepen or expand existing knowledge and skills, further education aims to acquire new competencies and thus improve career opportunities. The topics often go beyond massages.
Further education usually takes place as part of:
Conferences: up to one week, €100 - €300

Congresses: up to one week, €100 - €1,000

Certificate programs: up to one year, €300 - €3,000

Master's programs: 2-4 years, several thousand euros per year
Here are some further education programs that may be of interest to massage therapists.
Sports Physiotherapy
Further education in sports physiotherapy is of great importance for massage therapists working in the field of sports massage. Such further education provides them with specific knowledge and skills to be able to treat and care for athletes in a targeted manner. Sports physiotherapy includes the diagnosis, treatment, and prevention of sports injuries as well as rehabilitation after injuries or surgeries.
Further education in sports physiotherapy can cover various topics, such as:
Sports injuries

Training theory

Sports nutrition

Sports psychology

and more
An important focus is on the diagnosis of sports injuries and the treatment of acute and chronic injuries. Participants also learn about various rehabilitation techniques to treat injuries and bring the athlete's body back to an optimal state.
Osteopathy
In osteopathy further education, massage therapists learn various techniques to examine the body's musculoskeletal system and diagnose problems. They learn how to improve the structure and function of the body through manual manipulations to alleviate pain and limitations. They will also learn how to consider customers holistically to identify and treat the underlying causes of pain and problems.
Further education in osteopathy is particularly beneficial for massage therapists who treat customers with complex and chronic pain problems. Osteopathy techniques can be used to treat back pain, joint pain, migraines, digestive problems, and other illnesses.
There are various providers of osteopathy further education that provide both practical and theoretical knowledge. Some programs are available online, while others require in-person instruction. The duration of an osteopathy further education can vary from a few weekends to several years.
Further education in osteopathy can open up new career opportunities for massage therapists and help them better treat their customers. It also allows massage therapists to stand out from other competitors as they have a broader knowledge and skill set in treating body problems.
Course Instructor for Relaxation Techniques
Further education as a course instructor for relaxation techniques can help massage therapists offer their customers a holistic treatment that goes beyond purely physical massage. Relaxation techniques such as yoga, meditation, or progressive muscle relaxation can help reduce stress and increase well-being. With such further education, massage therapists can learn how to give group classes and which methods and techniques are particularly effective.
Topics such as
group dynamics
course organization and planning
and marketing
can also be part of the further education.
As a course instructor for relaxation techniques, massage therapists can not only offer targeted relaxation to their customers but also help reduce and avoid stress in the long term. Regular relaxation techniques can help the body cope better with stress and regenerate faster. Further education in this area can therefore be a valuable addition to classic massage therapy and expand a massage therapist's offerings.
Health Management
Further education in health management can help massage therapists acquire business knowledge to successfully run their own practices. This can help them make their business processes more effective and efficient and manage their financial resources better. The further education can include topics such as practice management, customer acquisition, marketing, and accounting.
A further education in this field can also help to expand the customer base and develop marketing strategies to make the practice more well-known. In addition, a further education in healthcare management can help masseurs better understand and comply with the legal regulations and provisions in the healthcare sector.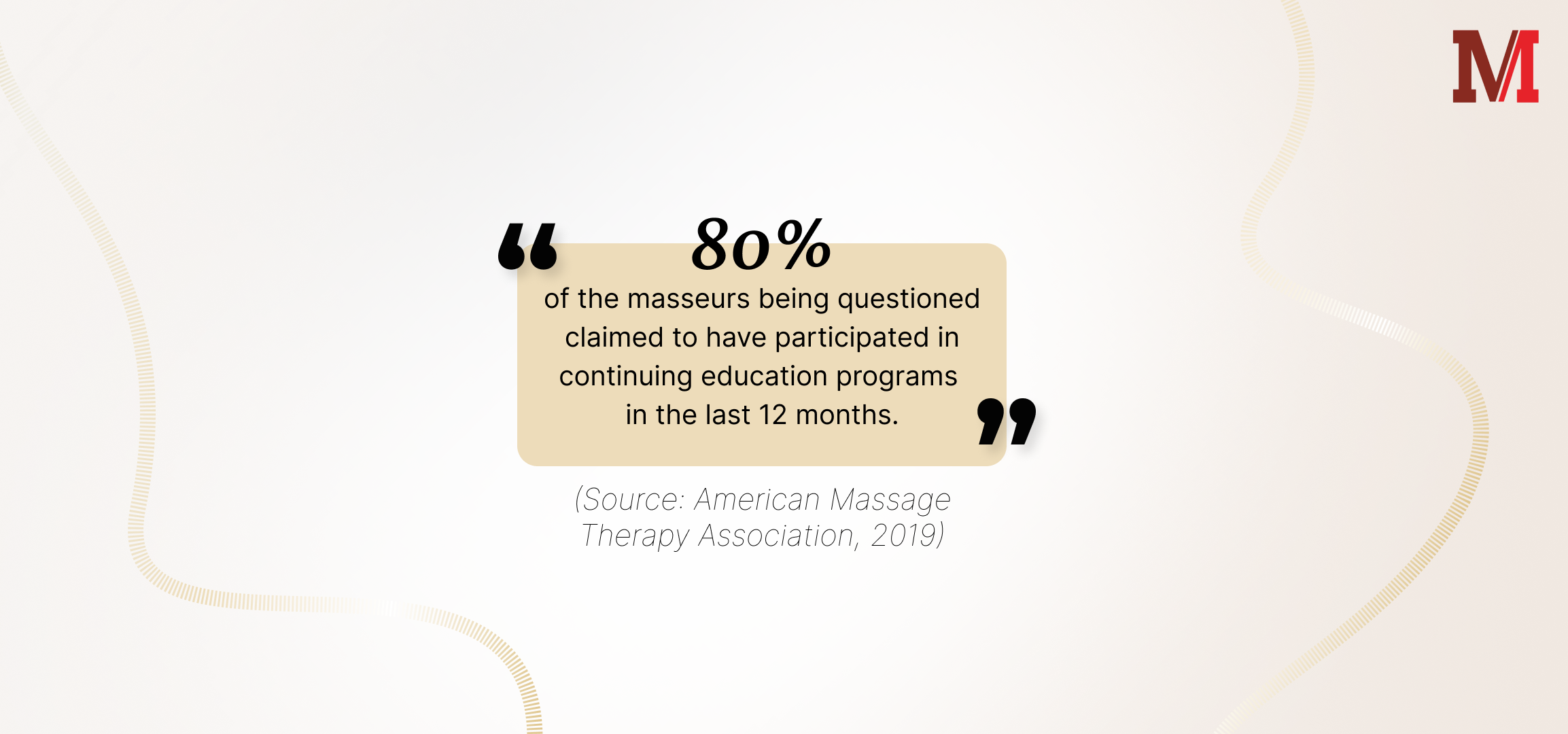 3. How to make the right choice
After getting an overview of the various training and further education options for physiotherapists, it is now important to make the right choice. Various factors should be considered.
Firstly, one should consider in which area of the field they would like to deepen their knowledge. Individual interests as well as professional requirements and demand can play a role here. For example, courses on specific therapy methods or patient groups such as children or seniors may be particularly relevant.
In addition, other factors are important:
Quality: It is recommended to look for reputable and established providers that are recognized by professionals in the industry.

Reputation: It is worthwhile to check the provider's references and read the reviews from former participants.

Costs: The costs of the training or further education are an important factor. Financing options should also be considered.

Timeframe: It is important to consider how much time one needs to invest to complete the training or further education.

Curriculum and methods: The structure of the training or further education should correspond to one's own expectations and be tailored to the desired learning objectives.
Here are some reputable providers of continuing and further education for masseurs:
International SPA Association (ISPA)

National Certification Board for Therapeutic Massage and Bodywork (NCBTMB)

Associated Bodywork & Massage Professionals (ABMP)

Federation of Holistic Therapists (FHT)

International Association of Healthcare Practitioners (IAHP)

American Massage Therapy Association (AMTA)

International Massage Association (IMA)

International Thai Massage School (ITM)

British School of Osteopathy (BSO)

International Society for Thai Yoga Massage (ISTYM)
4. Financing options
As we have seen, both short and long-term training programs can be costly depending on their duration and content. Here are some financing options for massage therapists looking to pursue further education:
Self-funding: Massage therapists can pay for their training out of their own pocket if they have saved up enough money.
Employer funding: Are you employed? Some employers offer their staff the opportunity to further their education and may partially or fully cover the costs of training programs.
Scholarships: There are various foundations and organizations that offer scholarships for healthcare-related training programs, such as the Robert Bosch Foundation or the Aufstiegs-BAföG.
Education loans: It is also possible to take out educational loans to cover the costs of training programs, though the terms and interest rates should be carefully considered.
Government funding programs: There are government funding programs that support the financing of training programs. Massage therapists can inquire about relevant programs from the appropriate authorities.
How did you like the article?
With your feedback, we can improve our content.
❤️ Very interesting! - ☺️ Okay. - ☹️ Not interesting.