Are you ready to set up your own massage studio or do you want to renovate the old one? A massage table alone is not enough, because the atmosphere also plays a big role. The right interior will help your clients relax and enjoy the treatment. Don't know how to achieve that? Don't worry. We'll tell you how to turn your studio into a wellness oasis!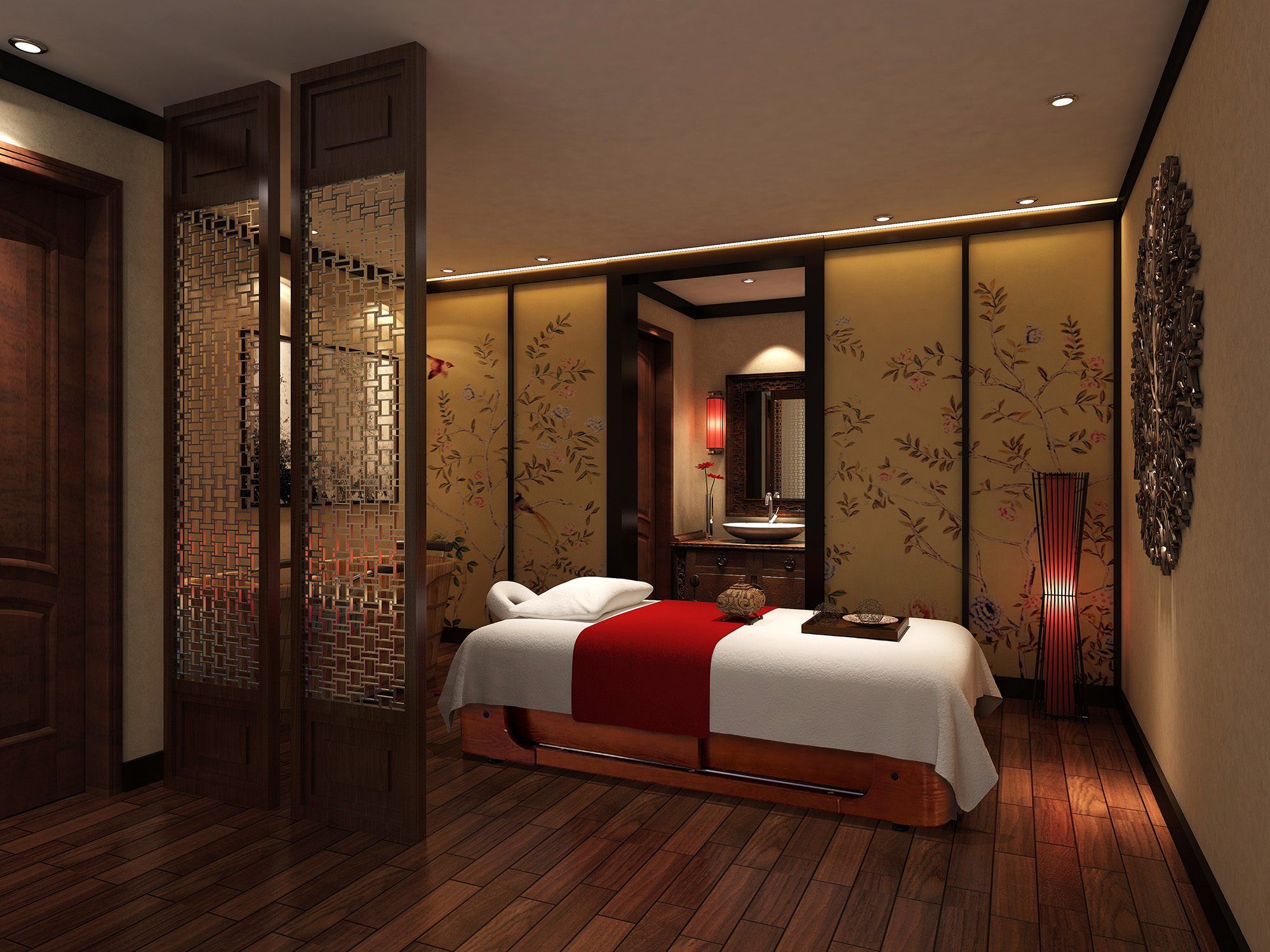 1. What do you need to keep in mind when setting up a massage practice?
To wow your clients, you should pay attention to the following points.
1.1 The space
The space of your massage studio provides the basis for a successful treatment. Make sure you choose a space that will be used exclusively for performing massages. Separate the waiting area, living rooms and other restless places from the massage room. This will allow you to concentrate and your clients can relax.
1.2 Seating and storage areas
Even if your clients spend most of their time on the massage table, seating is a good idea. The patient can sit on the chair after the treatment to get dressed again or to put on their shoes.
With enough shelves, racks and cabinets, you can store all your accessories so they don't lie around. In addition, the room gains character and there is space for decorative elements that contribute to the atmosphere.
1.3 Lighting
Dimmable light sources provide relaxing lighting. Choose a lamp which you can adjust to the desired atmosphere. Fairy lights, light strips or candles can help with that as well.
1.4 Attention to detail
You will be surprised at what a difference decoration can make. Use candles, singing bowls, fresh flowers, themed pictures or a small waterfall to complete your massage studio and give it that finishing touch.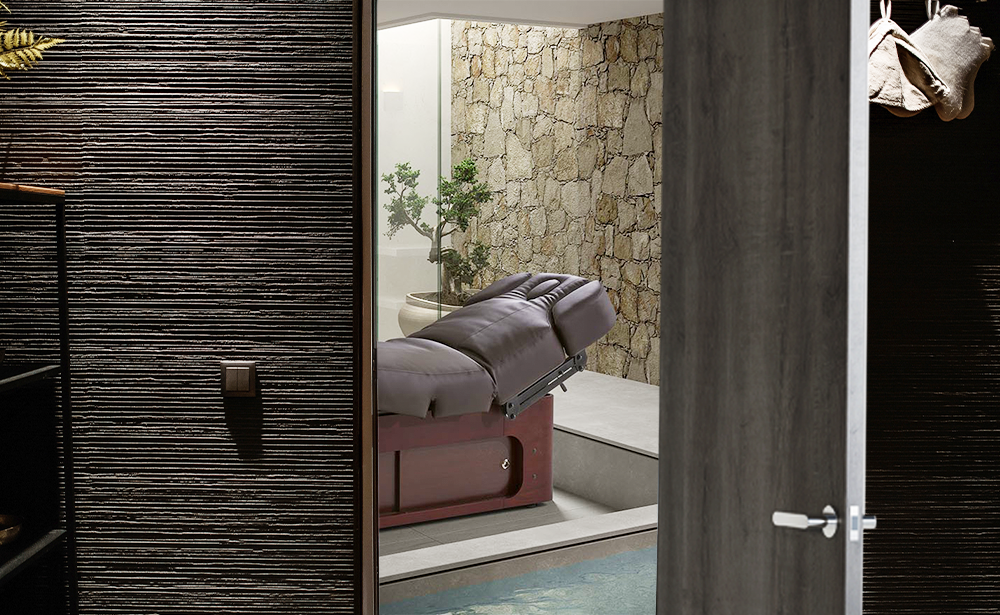 2. What do masseurs need for their work?
Now that we've looked at how you create the right atmosphere, let's move on to the working tools and furniture every masseur should have.
2.1 Massage tables
Clearly, a massage studio needs a massage table. Your budget as well as your preferences will determine whether you choose a stationary or a mobile massage table.
Elegant wooden tables like the ZEN BASIC III Flat or ZEN Oval FlatTop are suitable for mobile massages and the small budget. They offer soft padding, stability and are lightweight. You can easily move the foldable massage tables around the room and they are height adjustable. Massage tables like the ZEN Oval FlatTop also feature memory foam. This additionally increases the wellness factor.
On the other hand, if you opt for a stationary massage table, we recommend choosing a model that has wheels. These make cleaning easier and allow you to quickly rearrange furniture as well. Massage tables like the VIENNA or HERA can be easily moved around the room, even if your patient is already lying on it. Additionally, they impress with their multiple spa functions.
2.2 Massage oil
Massage oil is also essential, especially for Lomi Lomi and Ayurveda treatments. When choosing an oil, look for organic seals or organic quality as well as purely herbal ingredients.
You can't go wrong with the massage and aroma oils from Øleuspá. They are particularly nourishing and skin-friendly and can be mixed with each other. This way you can create your unique fragrance experience.
2.3 Rolling and folding stools
Your massage practice should have one or more stools so that you can also work while sitting. At the same time, they serve as chair substitutes for clients.
Stools that visually match your massage table are ideal. Folding chairs are great for mobile tables, whereas rolling stools with chrome frames are more suitable for stationary wellness tables.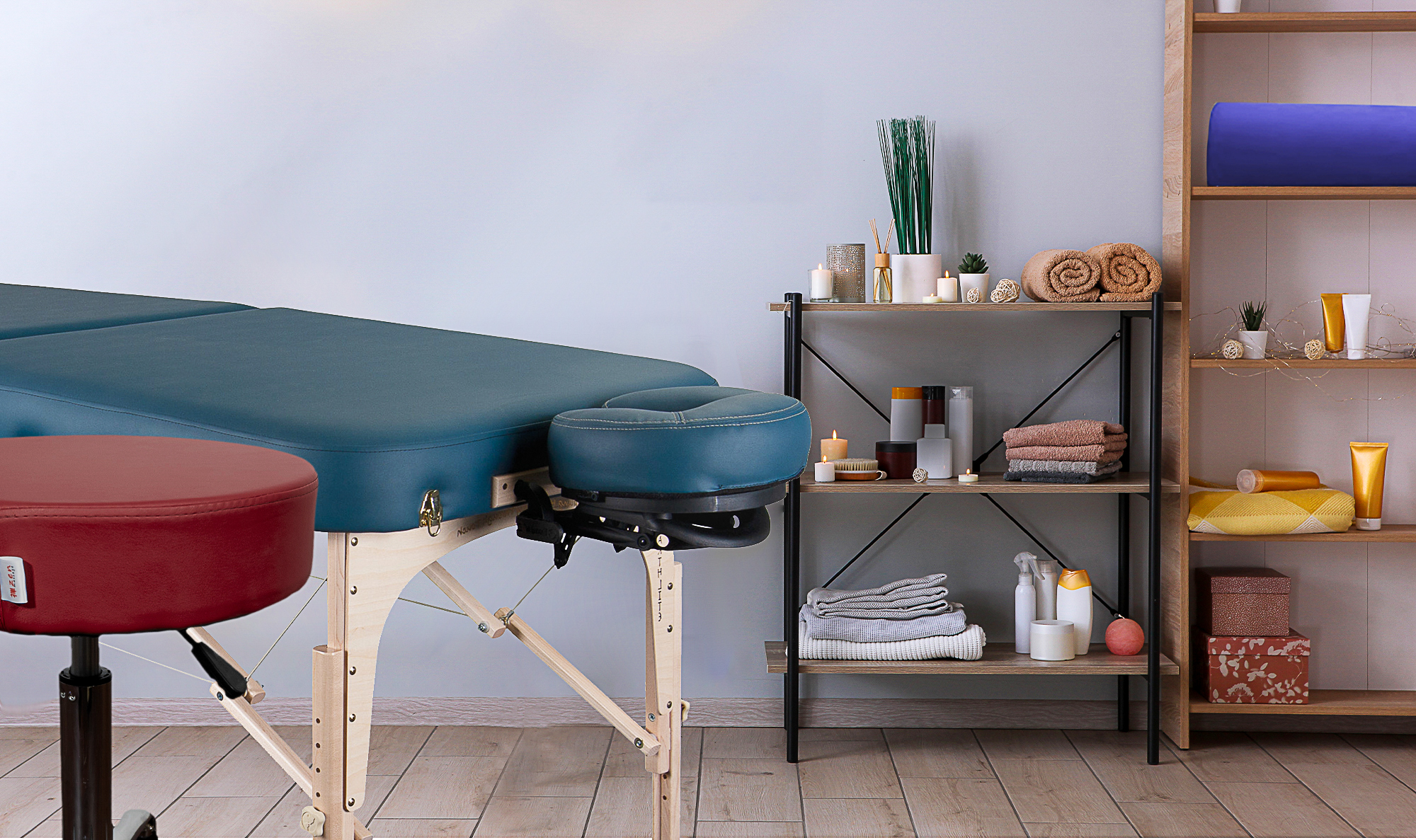 2.4 Bolster pillows
For proper positioning of your client, you will need knee and positioning bolsters. Soft knee rolls like the Fluffy are ideal for the neck, half rolls are for knee and ankle joints.
Choose a bolster that has a PU leather cover. These are easy to clean and also environmentally friendly.
2.5 Couch covers and warming blankets
To protect your massage table from sweat, makeup and oil, you should always have a selection of covers ready in your massage studio. Covers for pillows made of terry cloth, fleece or PU leather, as well as slipcovers and warming blankets, complement your work. At the same time, they guarantee the longevity of the massage table.
A special luxury for cold winter days are electric heating blankets. The overheating protection ensures maximum safety.
2.6 Massage tools
Have you been massaging with your hands only? You may find that you also like massage tools. Tools like Hyperice's Vibrations Pistols add variety to your offer. They also delight customers with their ease of use. With Hyperice and Co. you can easily loosen fascia and relax muscles.
Cupping also remains popular. Silicone cups in various sizes and degrees of hardness are reliable massage accessories. They allow you to treat the entire body in just a few easy steps.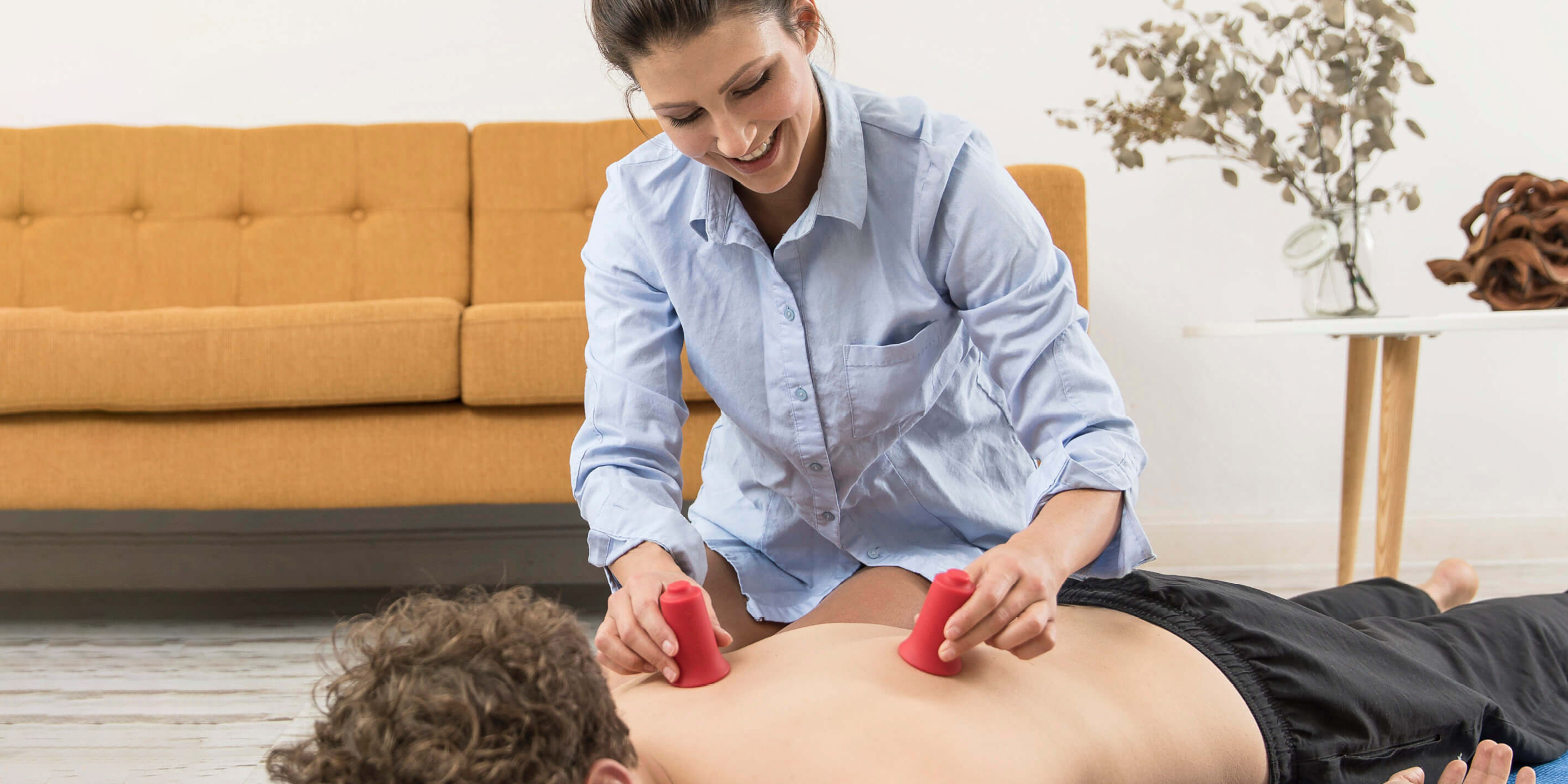 2.7 Hygiene products
Do not underestimate the importance of hygiene and protect yourself as well as your clients. We ask you to regularly disinfect your massage table, surfaces and accessories.
Disposable covers are also a good idea. They keep the covers clean and can be replaced after each treatment. This way you make sure that your patients feel comfortable and viruses as well as bacteria don't stand a chance.
3. Your own massage studio
Now it's your turn. From the right room, to the decoration, to the massage table - setting up and opening a massage studio requires a lot of work and heart and soul.
In our extensive online store we offer further inspiration and help. We are also happy to advise you by phone, email or in person in our showroom in Berlin Mitte.
Together we will create the massage studio of your dreams!