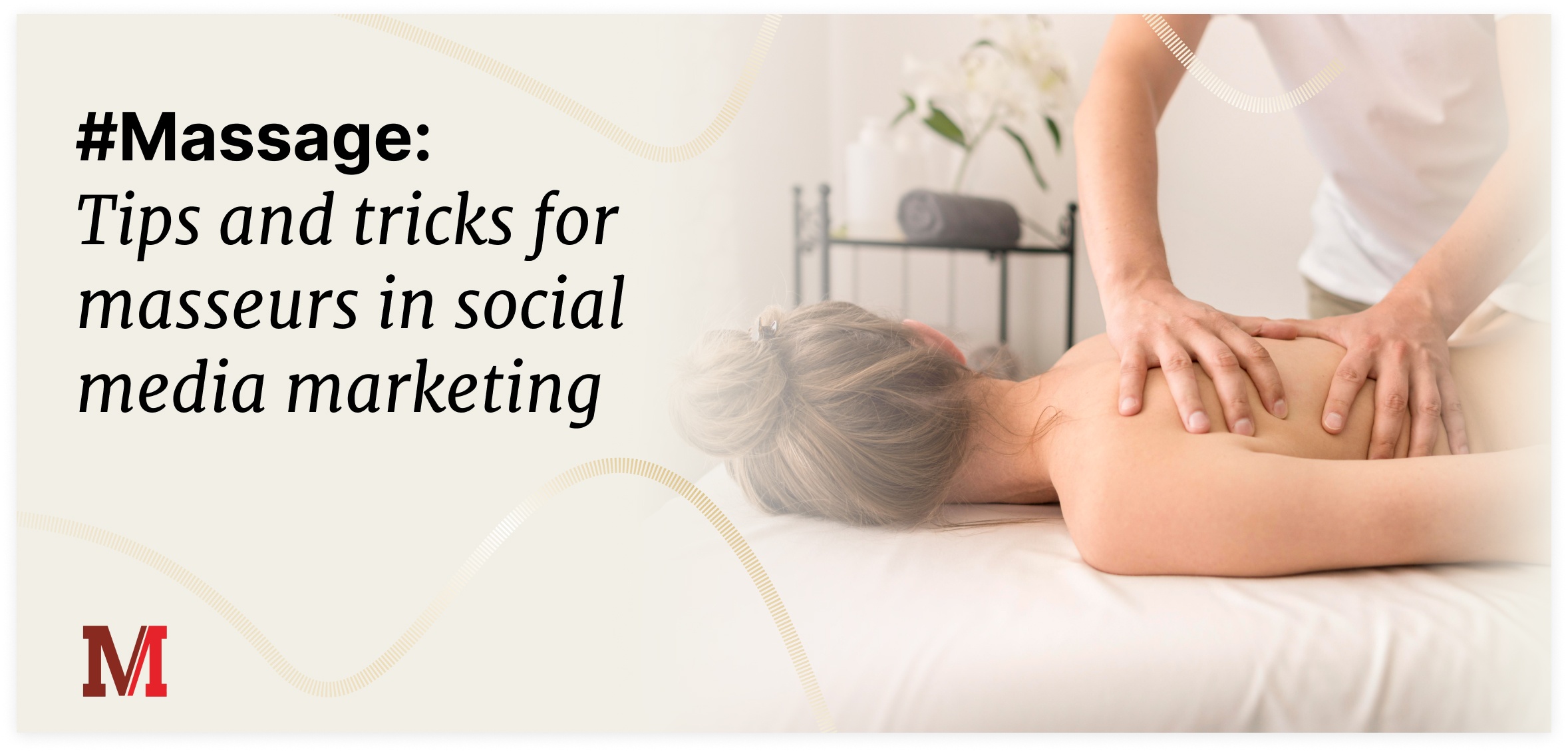 Social media and online marketing have had a tremendous impact on the way businesses promote their products and services and increase their visibility for years. Massage therapists can use social media to promote their studio, find potential new clients, and make their services known.
Are you a novice in social media or in need of new inspiration? Then you're in the right place!
We'll show you how to:
Identify your target audience

Use hashtags and keywords

Regularly publish content

Measure success
1. Identify Your Target Audience
By using social media, massage therapists can reach their target audience and connect with them. Facebook, Instagram, and Twitter are just a few examples of platforms that can benefit your business.
Identifying your target audience is important to ensure that your marketing strategies and messages are targeted at the right group of people. If you don't know your target audience exactly, you can waste time and money targeting people who are not interested in or don't need your services.
Here's how to identify your target audience:
Check your existing customers: Check your customer list and analyze their demographic characteristics such as age, gender, profession, and interests. This information can help you better understand your target audience on social media.

Conduct surveys: You can conduct surveys on your website, social media channels, or via email to learn more about your customers' interests and needs. You can ask questions like "What type of massages do you prefer?" or "How often do you get massages?"

Analysis of social media data: Are you already using social media? You can analyze the data from your platforms to learn more about your target audience. For example, you can find out which age groups and genders view or interact with your content most frequently.

Use keyword research: Use keyword research tools to see what kind of keywords your target audience is entering into search engines. This can help you understand what your target audience is searching for and what kind of content may appeal to them.

Watch your competition: Look at what your competition is doing on social media. Observe what kind of content they are posting, who they are targeting, and who is responding. This can help you develop ideas to better reach your target audience.
Once you have identified your target audience, you can choose the appropriate platform. The most popular ones include Instagram and Facebook, with Instagram mostly used by younger people and Facebook by older people.

2. Use Hashtags and Keywords
Social media platforms are now an important part of advertising and building a brand. An effective method to increase the visibility of your massage practice is to use hashtags and keywords in your social media posts.
What are Hashtags?
A hashtag is a type of labeling where a word or phrase is marked with a pound sign (#). On Instagram, Twitter, or Facebook, words can be labeled with the pound sign (e.g. #massageberlin), which makes them clickable for other users. Clicking on a hashtag leads to a page that collects all posts that have been labeled with that same hashtag.
By adding hashtags to the description texts of your posts, you can tag your content specifically and reach potential customers who are searching for these keywords. For example, if you have a massage practice in Berlin, you can use hashtags like:
#massageberlin

#wellnessberlin

#massagespa

#ayurvedamassage

#thaimassageberlin
By using these hashtags and others, you can achieve greater reach as your posts are displayed to customers who are searching for these keywords.
What are Keywords?
Keywords are terms used within texts on your website and social media channels to describe your services. Use keywords that accurately describe your massage practice and services, such as "relaxation massage," "sports massage," or "pain therapy."
It's important to choose the right hashtags and keywords for your massage practice. Use hashtags and keywords that relate to your services, target audience, and location. Meaningful use of hashtags and keywords can direct your posts to the right audience and increase visibility for your massage practice.
3. Publish Content Regularly
Publishing regular content on social media platforms is an important part of marketing today. With relevant, engaging, and informative content, you can increase engagement with your target audience and build trust in you and your studio.
Why Is It Important to Publish Content Regularly?
It's important to publish content regularly to help maintain the interest of your target audience. Additionally, you'll be perceived as a reliable source of information in your industry. However, quality is just as important as quantity. Make sure your posts are always relevant and informative.
Here are a few ideas for posts that you can share on your social media:
Show your studio: Share attractive photos of your practice. Share before-and-after pictures of renovations and remodels.

Tips & Tricks: Share your knowledge. In short videos, you can teach your followers a few techniques. This provides real value to your profile.

Testimonials: Nothing convinces more than satisfied customers. You can share emails or reviews. However, you should anonymize the customers or ask for their permission.

Behind the scenes: Share insights into your workday. Photos and videos of team events are also great.

Employee Features: Introduce your team and share photos or information about your employees.

Offers: On your social media channels, you can share promotions and special offers.
How to Increase Engagement
But what good are well-thought-out posts if no one really pays attention to them in the end? With a few tricks, you can increase engagement with your followers.
Respond to comments and messages.

Create content that encourages conversations and discussions.

Ask questions to your target audience in your posts.

Encourage your followers to leave comments.

Use additional call-to-action elements, using personal pronouns (e.g. "Book your appointment", "Get the offer", "Follow us for more information").

4. Measure Success
Now you know who you are posting for and how to generate interest from your target audience. There's just one more question: How do I measure the success of my efforts? After all, it's important to know what works so you can make adjustments if necessary.
Here are some possibilities:
Engagement Metrics: One of the most important metrics for measuring the success of social media campaigns are engagement metrics such as likes, comments, shares, and followers. Through these metrics, masseurs can see how many people are interacting with their content and how many new followers they are gaining. On Instagram, Facebook, and Twitter, you can easily view these data. Directly below your post, you can see how many likes and comments your post has received. In addition, the platforms have a separate analytics section where you can track how many followers you have gained through the post. Additionally, impressions and reach are recorded here.
Conversion Tracking: You can also use conversion tracking to measure how many people actually visit your massage studio after seeing an ad on social media. To do this, you need to create a tracking URL that points to a special landing page. If someone clicks on this URL and books an appointment, it will be recorded as a conversion.
Analysis of Comments and Feedback: Regularly take a look at the comments to see how your target audience is responding to your content. Through this analysis, you can identify which content is well received and which is less successful.
How did you like the article?
With your feedback, we can improve our content.
❤️ Very interesting! - ☺️ Okay. - ☹️ Not interesting.