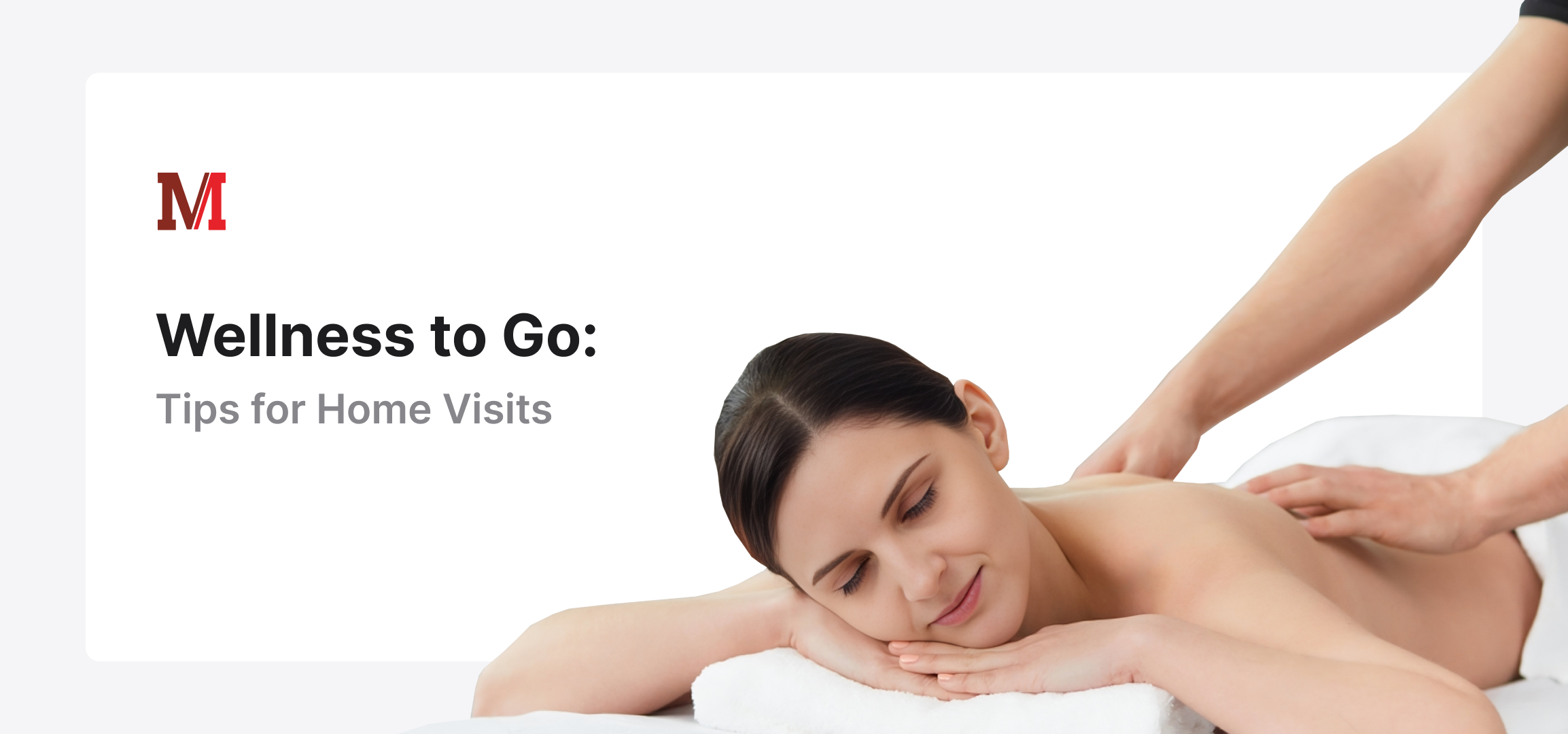 In our fast-paced world, where time is often scarce, more and more people are seeking ways to relax and rejuvenate that seamlessly fit into their hectic lifestyles. In this context, mobile massages are becoming increasingly popular. Masseurs who offer their customers the opportunity to enjoy soothing treatments in the comfort of their own homes not only provide new avenues for relaxation but also create unique experiences that go beyond the typical spa visit.
If you are a masseur looking to offer mobile massages, you are part of a growing trend in the wellness industry. However, to be successful as a mobile masseur and satisfy your clients, you need more than just professional expertise. From selecting the right equipment to optimizing your appointment schedule and creating a relaxing atmosphere on-site, this blog article provides valuable tips and advice to make your mobile house calls an unforgettable experience for your customers.
Selecting the Right Equipment

Effective Appointment Scheduling and Route Optimization

Communication with Customer Before the House Visit

Creating a Relaxing Atmosphere

Ensuring Safety and Privacy

Be Flexible

Payment Processing and Accounting

Follow-up and Customer Satisfaction
1. Selecting the Right Equipment
A crucial factor for mobile masseurs is choosing the right equipment that allows for seamless movement between clients while ensuring the utmost comfort and quality of treatments.
The Perfect Massage Table
Opt for a lightweight yet sturdy massage table or chair that is easy to fold and transport, without compromising stability and comfort. A padded surface provides the customer's comfort during the treatment.
Let's look at the example of the ZEN BASIC III Flat to see what features a portable massage table should have:
Low Weight: The massage table is designed to be lightweight yet stable. The low weight is a crucial advantage as you frequently need to transport the table. The lightness allows you to carry the table easily on your own.
Easy Setup and Takedown: The ZEN BASIC III Flat is specially designed for quick and easy handling. Setting up and taking down the table is effortless and takes very little time. The folding design allows for space-saving storage and easy transportation in a car or a transport vehicle. At the destination, the table can be set up without complications, allowing you to start the treatment promptly.
Dual Face Rest Access: Not a necessity but an added bonus. If you attach the face rest on one side, you can use the other access for a footrest or a towel holder. Moreover, the BASIC III Flat comes with a face hole and side armrests.
Flat Padding: The icing on the cake. The highly padded edges of the massage table provide a flat surface without rounded edges. This is especially beneficial for relaxation treatments, as clients can use the entire surface without their hands or arms slipping down the sides. This feature is particularly important for therapists who emphasize relaxing and comfortable massages.
Find a Transport Method
Ensure you have a reliable means of transportation, such as a compact delivery van or a spacious trunk, to safely and efficiently transport your equipment to clients. Invest in organizers, bags, or boxes to neatly store your massage supplies, avoiding any mess and conveying a professional image.
Hygiene Measures
Adhere to strict hygiene standards to protect your clients' health and build trust. Ensure all materials used are easy to clean and disinfect. Use disposable or washable covers for massage tables and headrests, and disinfect your hands before and after each treatment. Clients will appreciate your attention to detail and care.

2. Effective Appointment Scheduling and Route Optimization
Appointment scheduling and efficient route organization play a crucial role in maximizing your productivity and customer satisfaction. A structured approach allows for smooth operations and avoids unpleasant bottlenecks.
Benefits of Structured Appointment Scheduling
Well-thought-out appointment scheduling is the key to success as a mobile masseur. Use digital calendar or appointment scheduling software to manage your bookings and record essential customer information. This provides you with a clear overview of your availability and prevents you from overlooking or double-booking appointments.
Avoiding Bottlenecks and Long Waiting Times
Time is a precious commodity, both for you and your customers. Strive to allocate realistic buffer time between appointments to handle unforeseen circumstances appropriately. Ensure your customers are informed as early as possible in case of any rescheduling, to avoid long waiting times and ensure their satisfaction.
Optimizing Routes to Save Time and Resources
Strategically plan your routes to save time and travel costs. Group appointments in a specific region or city to avoid unnecessary trips. Utilize apps or GPS tools to circumvent traffic delays and find the most efficient routes. A well-planned route optimization not only leads to satisfied customers but also boosts your productivity and profitability.
3. Communication with Customers Before the Home Visit
Clear and open communication with your customers before the house visit is essential to build a trusting relationship and ensure their needs and expectations are met.
Setting Clear Agreements and Expectations: Before the house visit, it's crucial to discuss the details of the massage treatment. Clarify the duration of the massage, the exact appointment time, and the price. Ensure your customers understand the type of massage and its intensity, to avoid misunderstandings during the treatment. Openness and transparency create a pleasant foundation for a successful massage experience.
Inquiring About Special Needs, Allergies, or Health Issues: Determine in advance if your customers have any special needs, allergies, or health restrictions that could affect the massage. This allows you to adjust your techniques accordingly and bring along specific products or oils that won't trigger allergic reactions. Showing sensitivity to their well-being demonstrates your care and consideration.
Confirmation of the Appointment and Availability of Contact Information: Send a confirmation message before the house visit to reconfirm the appointment and ensure both parties are well-prepared. Provide your contact information to your customers in case they have any questions or need to make changes to the appointment. Clear and reliable communication contributes to a smooth process, ensuring both parties are punctual and relaxed.
4. Creating a Relaxing Atmosphere
As a mobile masseur, you have the unique opportunity to bring an atmosphere of relaxation and tranquility directly to your clients' homes. With some simple recommendations, you can create a pleasant environment that enhances the massage experience.
Creating a Quiet and Pleasant Space
Encourage your clients to prepare a quiet space for the massage, free from distractions and disruptions. A tidy room helps your clients relax better. Ensure there is enough space for your massage table or chair to work comfortably.
Choosing Relaxing Music and Aromatherapy
Offer your clients the option to choose their favorite music or suggest soothing sounds that create a calming atmosphere. Aromatherapy using essential oils can also contribute to relaxation. Ask your clients for their preferences or provide a selection of soothing scents.
Adjusting Lighting and Room Temperature
Dimmed lighting and a pleasant room temperature are crucial for creating a soothing atmosphere. Use dimmable lamps or candles, if possible, to create gentle lighting. Make sure the room temperature is comfortable and offer a blanket in case your clients feel chilly during the treatment.

5. Ensuring Safety and Privacy
As a mobile masseur, respecting and ensuring your customers' safety and privacy is of utmost importance. Handling sensitive customer data and ensuring safety during the massage itself must be carefully considered.
Handling Sensitive Customer Data and Privacy
Protect your customers' privacy by securely storing sensitive data such as names, contact information, and health details. Use encrypted databases and only store customer information for as long as legally required. Inform your customers about how you handle their data and obtain their consent before collecting any personal information.
Safety Measures for the Masseur and Customer
As a mobile masseur, take precautions to ensure your safety and that of your customers. Inform someone about your appointments and share your location, especially when visiting new customers or unfamiliar areas.
Emergency Plans for Unforeseen Situations
Develop an emergency plan for unforeseen situations, such as sudden health issues with your customers or natural disasters. Carry first-aid equipment and know how to respond appropriately in emergencies. Always have a mobile phone or another means of communication with you to call for help if needed.
6. Be Flexible
As a mobile masseur, you will work in various environments, so it's essential to adapt your massage techniques to different spaces and people to provide your customers with the best possible comfort.
Adapting Massage Techniques to Limited Spaces
In tight or confined spaces, you may need to adjust your massage techniques. Use techniques that require less space, such as gentle stretches or targeted acupressure. Communicate with your customers and ask them to provide you with enough space to effectively perform your work.
Alternative Techniques for Customers with Limited Mobility
Some customers have specific needs due to injuries, pain, or other physical limitations. Learn alternative massage techniques that cater to your customers' individual needs, enabling them to experience a relaxing session. This could involve using massage balls or performing the massage in a seated position.
Considering Customer Preferences and Needs
Each customer is unique, and it's essential to consider their individual preferences and needs. Before beginning the massage, clarify your customer's preferences and expectations. Offer various massage styles and intensities and adjust your techniques accordingly to create a tailored experience.
7. Payment Processing and Accounting
Payment processing and accounting are essential aspects of a successful mobile massage practice. Offering convenient payment options for customers and maintaining efficient accounting are crucial to ensuring the smooth operation of your business.
Offering Various Payment Methods to Customers: Provide your customers with various payment options to cater to their needs and preferences. Accept cash, credit cards, debit cards, and mobile payment services to make the payment process as easy and convenient as possible. Clarify the accepted payment methods with your customers in advance to avoid misunderstandings.
Transparent Pricing and Invoicing: Ensure that your pricing is transparent and clear. Communicate the prices clearly on your website or in your marketing materials. At the conclusion of the massage treatment, present the agreed-upon price in a transparent and detailed manner to avoid any confusion. Create professional invoices and send them promptly to your customers, so they can track the transactions.
Efficient Accounting for Mobile Masseurs: Accounting is a crucial aspect of your business management. Keep regular records of your income and expenses to have a clear overview of your business's financial health. Use accounting software or hire a professional accountant to manage financial data properly and submit your tax returns accurately.

8. Follow-up and Customer Satisfaction
Post-treatment follow-up and a focus on customer satisfaction are key to customer retention and the long-term success of your mobile massage business.
Seeking Feedback from Customers
Implement a feedback system to gather your customers' opinions about your services. Ask them for honest feedback about their experience, whether in person or through online surveys. Utilize the information received to identify areas for improvement and continuously enhance your services.
Building Customer Loyalty through Reward Programs or Discounts
Encourage your customers to regularly use your services by offering loyalty reward programs or discounts. Reward loyal customers with special benefits or bonus treatments. This makes your customers feel appreciated and increases the likelihood of them becoming repeat clients.
Follow-up Communication for Future Appointments and Referrals
After the massage treatment, it's essential to maintain contact with your customers. Send thank-you messages or emails to express your appreciation and offer future appointments. Ask your satisfied customers for referrals or reviews to attract potential new clients and expand your business.
By ensuring smooth payment processing, transparent accounting, professional follow-up, and a consistent focus on customer satisfaction, you can establish your mobile massage operation on a solid foundation and gain your customers' trust. Long-term customer relationships and positive word-of-mouth will help you sustainably increase your success in the industry.
Conclusion
The future of the mobile massage industry looks promising. As more people seek convenient and flexible ways to relax and relieve stress without leaving their homes, you, as a mobile masseur, have the opportunity to fulfill these needs and serve a growing market.
The personalized and individual experience you offer your customers can lead to strong customer loyalty and positive word-of-mouth. With the right marketing and customer service, you can expand your business and build a solid reputation in the industry.
In conclusion, I encourage you to seize the opportunities that the mobile massage industry offers. By placing the needs and desires of your customers at the center, continuously improving your services, and building a trusting relationship with your customers, you can not only increase your success but also contribute to the well-being and relaxation of many individuals.
How did you like the article?
With your feedback, we can improve our content.
❤️ Very interesting! - ☺️ Okay. - ☹️ Not interesting.