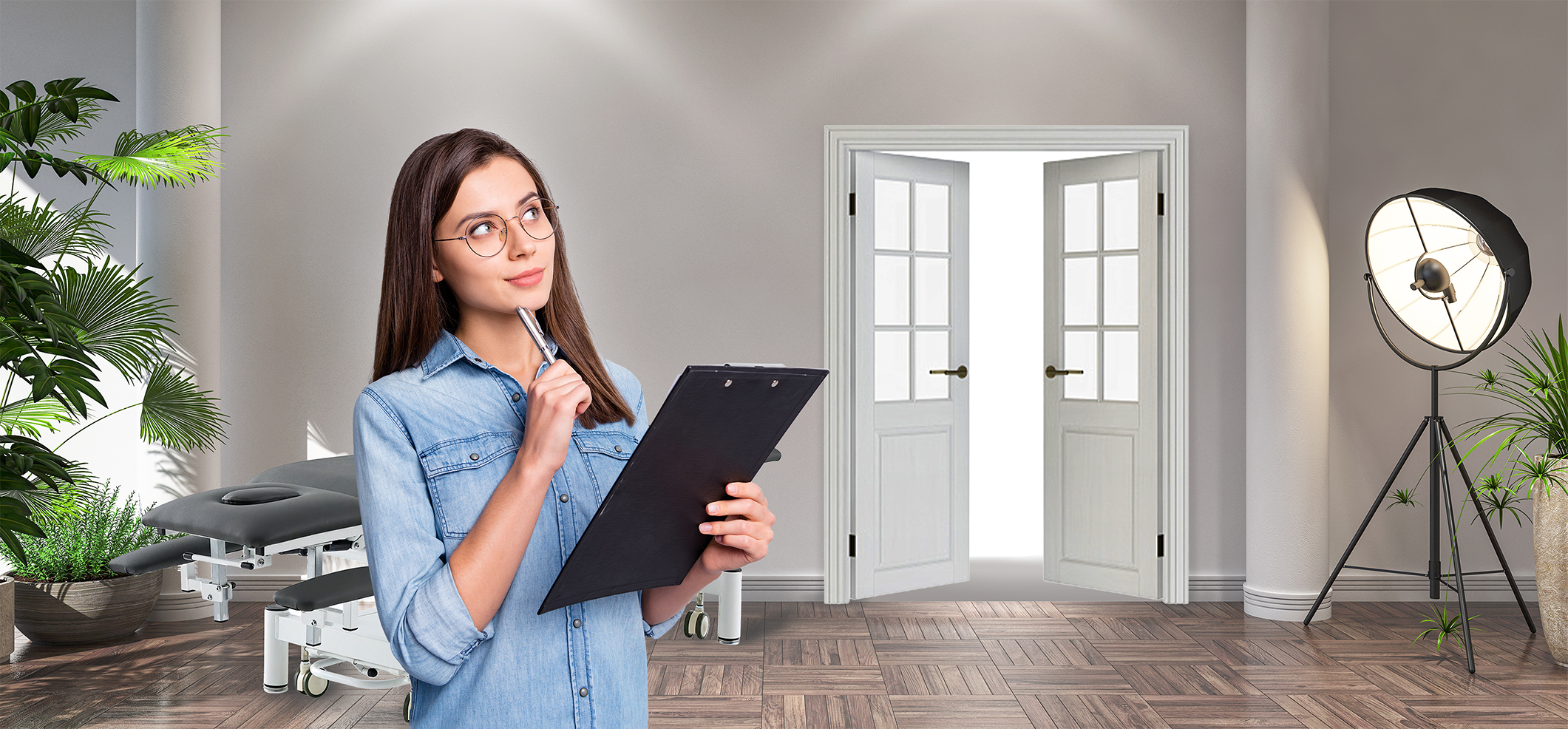 As a mobile bodyworker you have to be prepared for everything: Use this checklist to equip yourself with all the things you need.
1. Choose a Portable Massage or Therapy Table
If you don't already own a model, invest enough time in research and choose a treatment table that will compliment your work and impress your clients. First, choose between a massage and a therapy table.
1.1 Folding Massage Tables
For mobile massages, you need a portable massage table. You can fold and transport them from A to B. There are models with wooden frames, lighter ones made of aluminum, massage tables with face holes and those with back sections that can be raised. At the same time, the padding and size matter. To give you a better overview, we will compare two popular models.
The BASIC III Flat from ZEN Massage Ware is a classic portable massage table designed specifically for mobile use. It offers a 5.5 cm thick padding made of high-quality fine cell foam, as well as an adjustable headrest, which relieves the neck. At the same time, the massage table BASIC III Flat has a face lot that can be closed with a filler pad and comes with an arm loop. This increases the comfort of your clients when you treat them in a prone position. The armrests at the sides also increase the lying surface.

Similar yet different, Earthlite's mobile massage table Avalon XD is very comfortable as well, with a 7cm thick multi-layer padding. The Avalon XD doesn't have a face hole or lateral arm rests, but it does offer something very special: a Shiatsu option. You can fold away the legs of the massage table to lay it flat on the floor. Do you want to offer shiatsu treatments? Then this model is perfect for you. Along with the Avalon XD, you get a Flex-Rest headrest that adjusts to the client for optimal neck relief.
Tip: You like the Avalon XD, but you want an arm loop? You can purchase it separately in our online shop. It is suitable for all mobile massage tables.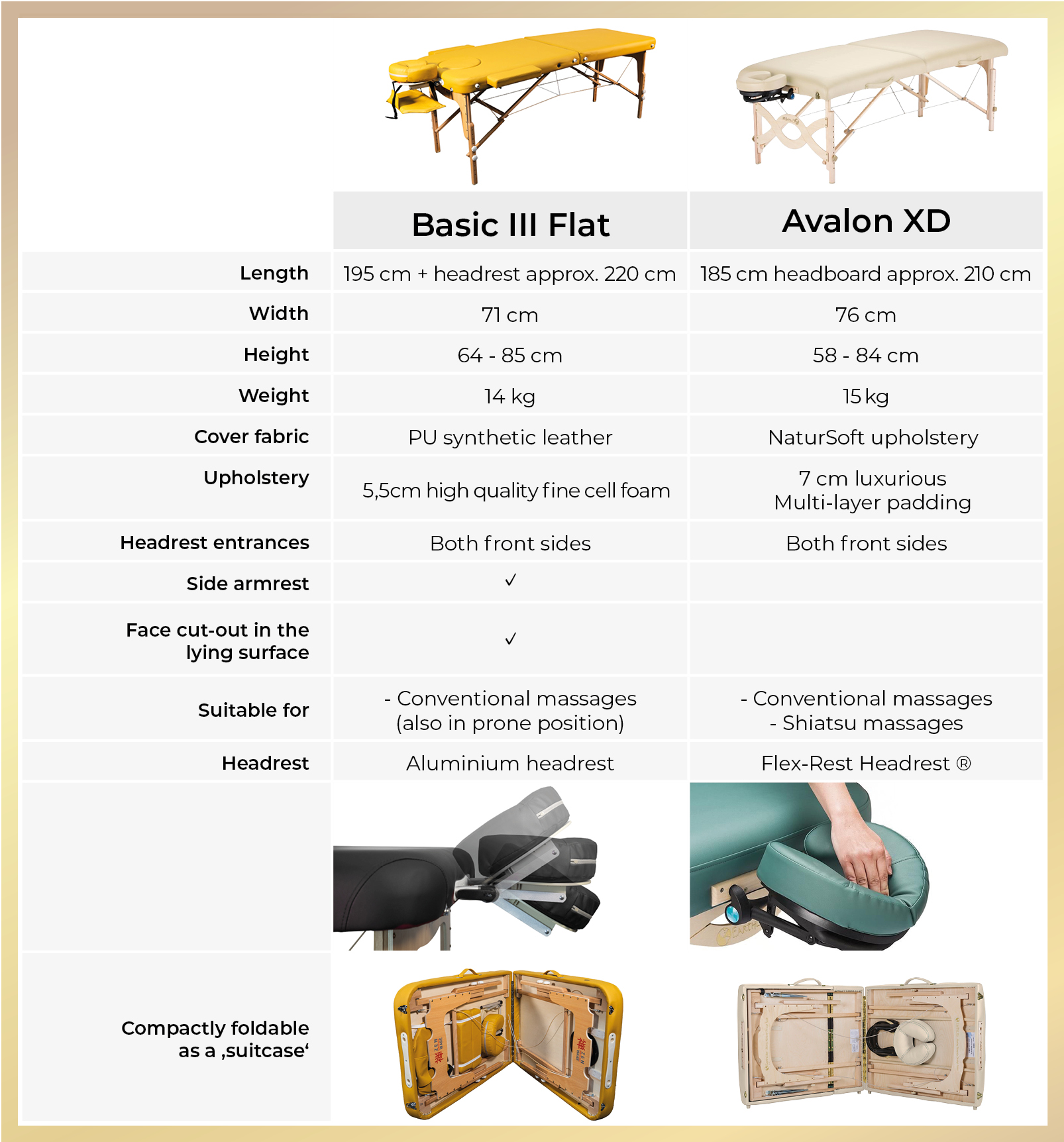 1.2 Folding Therapy Tables
Mobile working physiotherapists have different requirements than masseurs and therefore need special therapy tables. The padding can't be too thick and often therapists require a face hole as well as an additional segment that can be raised. A very good example of a folding therapy table is the ZEN PhysioTop.
As its name suggests, this portable treatment table is tailored to the needs of physiotherapists. With the PhysioTop, you have several options to treat your patients. Use the lateral arm rests for treatments in the supine position, the face hole as well as the arm loop for the prone position. The back section of the ZEN PhysioTop can also be folded up. The 10 levels allow different positions. This way you can bring the patient into a sitting position or treat the feet. At the same time, you help elderly or physically impaired clients to get up more easily.
Like the mobile massage tables, this portable therapy table is particularly stable and adjustable in height.
Tip: All models can also be used in stationary practices. They are particularly suitable for smaller budgets.
2. Make Full Use of Your Options
You can extend your mobile therapy or massage table by getting a footrest. It can be attached to the headrest inlet, which is available on both sides of many ZEN Massage Ware models. This way you have the headrest on one end and the extension on the other. Since the footrest can be detached at any time, you can decide for yourself which customer needs it. The footrest is 28 cm long and available in the same colors as the ZEN massage tables.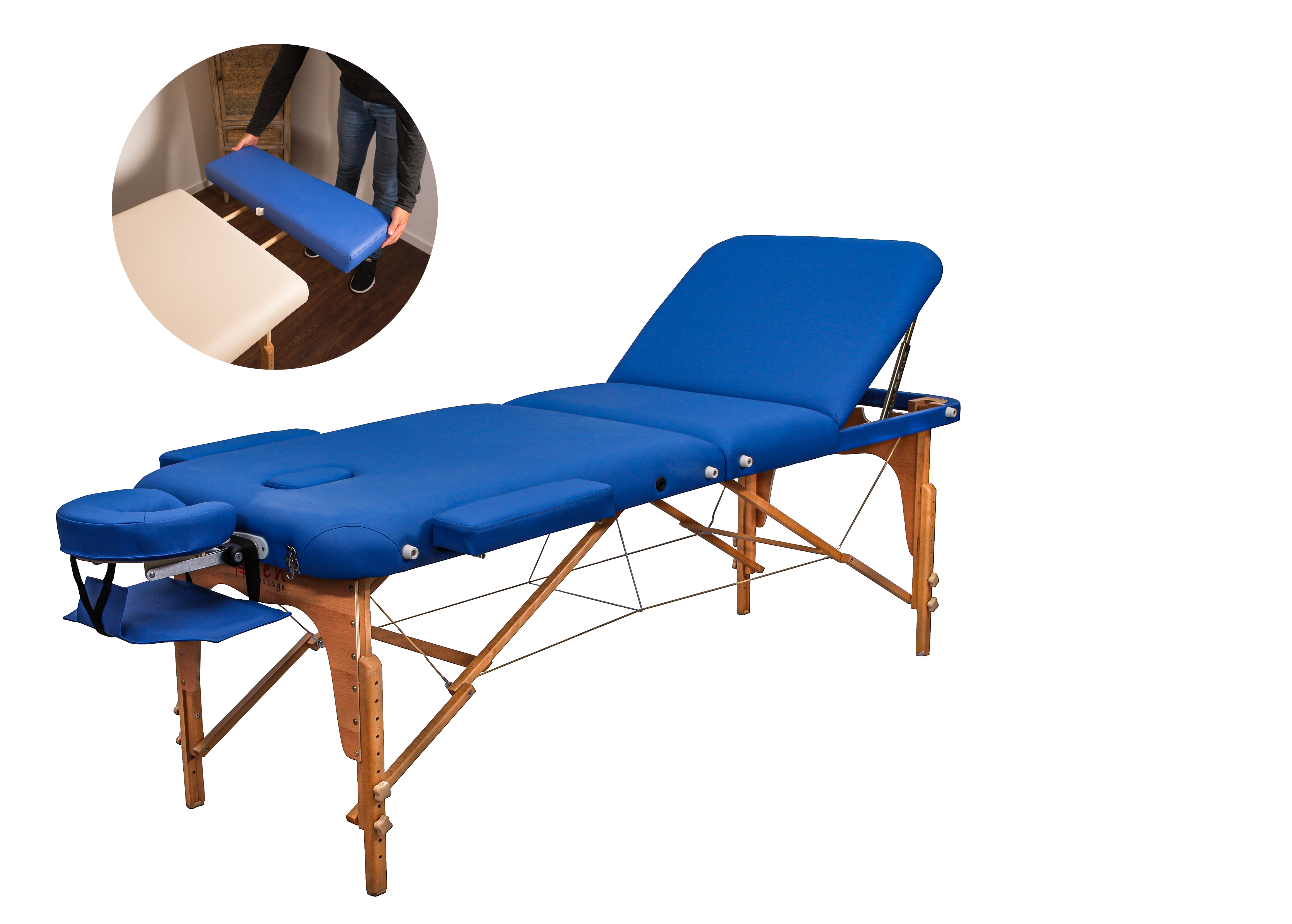 As an alternative to the footrest, you can use a paper roll holder. This is also attached to the second headrest inlet. The paper roll holder is adjustable in width to fit all standard massage tables.
3. Protect Your Portable Treatment Table
Hygiene is the be-all and end-all. Make sure your therapy or massage table stays clean and protected at all times. Massage oil, sweat, make up and creams will reduce the longevity as well as the comfort of your clients.
You can choose between a stretch cover and paper towels. Or you can combine the two: A fresh fleece cover is cozy and soft, and the paper towels ensure that you don't have to wash it after every treatment. On the other hand, if you work with a lot of oil, we recommend a PU cover. These are less cuddly, but oil and water repellent. The comfort remains, of course.
In any case, use disposable headrest covers. These protect your headrest reliably from make up and creams. They are made of soft fleece and leave no marks on the face.
Tip: No matter how well you protect your treatment table, you should still clean it and all your accessories regularly. Disinfectants from cosiMed are effective against bacteria, fungi and enveloped viruses. Also, don't forget to wash the covers often.
4. Round Off Your Equipment
Now you have everything you need? Almost! The following things could also be useful and support you in your work:
Check, check and check! With this list you are ready for your first home visit. We would be happy to advise you additionally by phone or in our showroom in Berlin Mitte.
How did you like the article?
With your feedback, we can improve our content.
❤️ Very interesting! - ☺️ Okay. - ☹️ Not interesting.